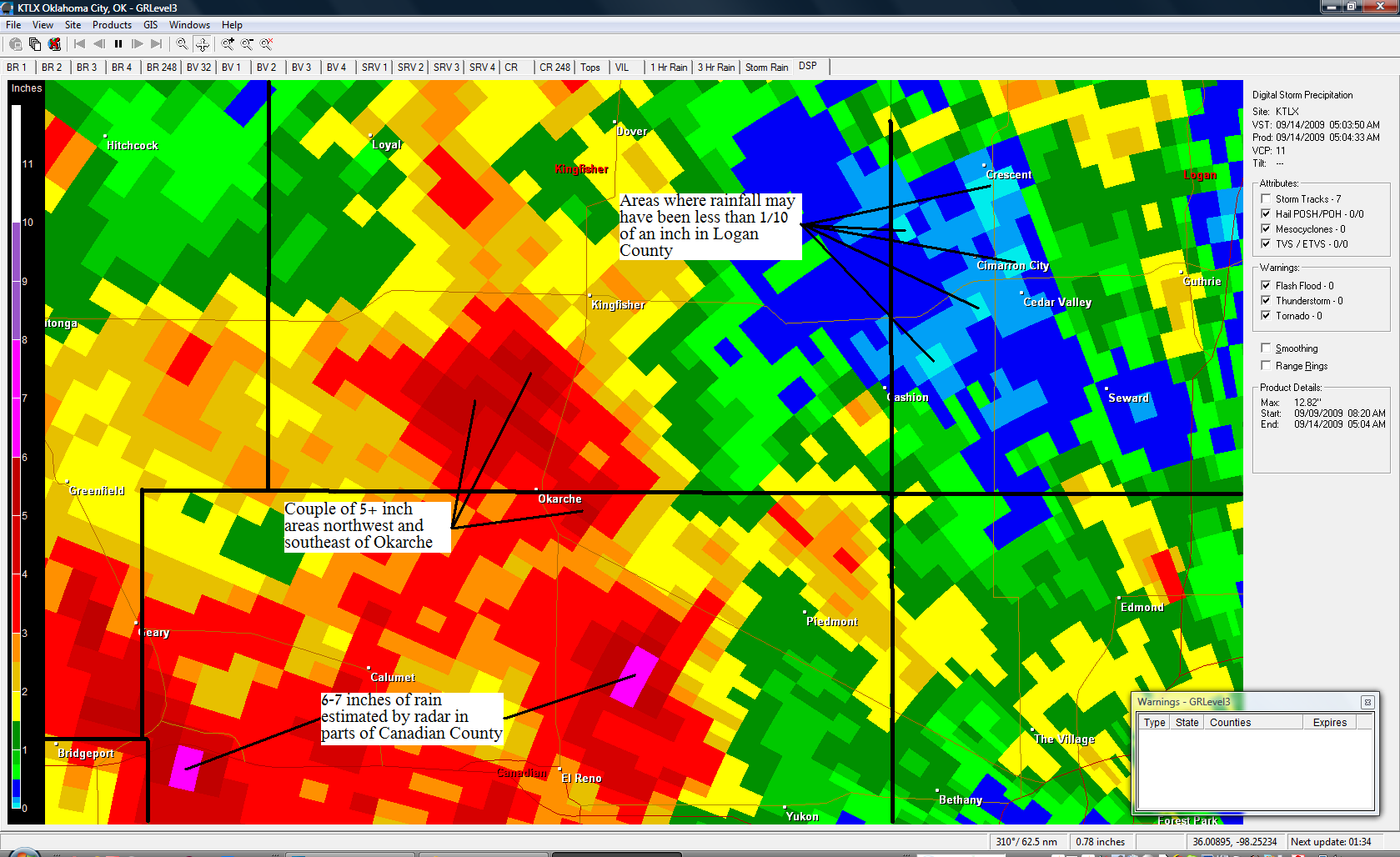 An upper level low pressure area that moved north through Texas has brought some heavy amounts of rainfall to Oklahoma during the past few days.  Okarche was one of the spots that took advantage of the tropical atmosphere and recorded a good deal of rain.  3.77 inches of rain has fallen during the past three days and light rain continues at this hour.  Most of that precipitation (3.51 inches) fell on the 12th, breaking a 20 year old record for the date by 0.01 of an inch.  This was also enough to make the top 10 list for daily rainfall (#9).   As one would expect, temperatures have been below normal through much of the first half of the month – 10 of 13 days.
Speaking of temperature normal's – September is the first month that you will see a change in how the monthly climate data for Okarche is displayed.    Changes include the addition of daily temperature averages and departures from normal… as well as a little more detailed wind data.
While buckets of rain have fallen in several areas… some have not been as lucky.  In fact, downright unlucky if you wanted rain in places like western Logan County (about 20 miles to our northeast).  Radar rainfall estimates are not exact… they frequently come in too high and sometimes lower than the actual amount verified by rain gauges.  However, this rainfall event seemed to be handled very well – especially in Kingfisher and Canadian Counties where the radar beam from the Twin Lakes radar is about 3500 feet above the ground.  Actual observations from El Reno, Okarche and Kingfisher were very close to the radar estimates.  With that in mind… we can look with higher confidence at the data in the image above.  This estimate of rainfall shows some "hot spots" where rainfall likely reached five, six or even seven inches over the past few days close to Okarche.  It also shows the hit and miss nature of the heavier precipitation around places east of Okarche that have likely recorded less than 1/4 of an inch.