A dryline moved across western Oklahoma on Thursday (12th).  Behind the dryline, temperatures reached 100+ degrees, while humidity dropped to well below 10%.  In fact, some humidity values dropped as low as 4% which is about as low as you will ever find them in the main body of Oklahoma.   Hot and dry conditions combined with southwest winds gusting to between 40 and 55 mph caused the fire danger to reach extreme levels.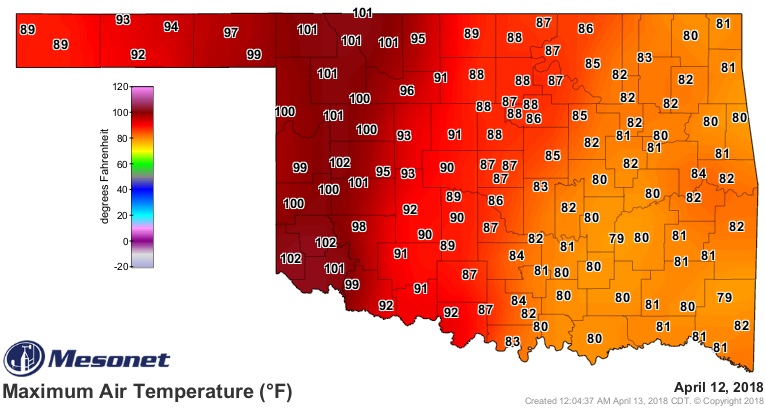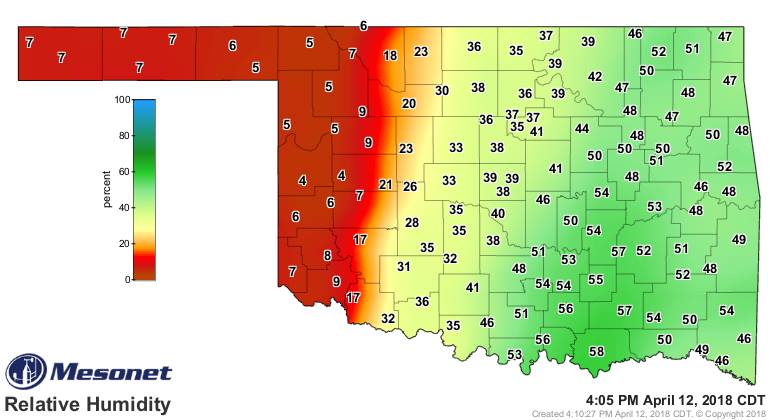 There were several wildfires that developed, and three of these became very large.  Fires covering the largest areas were located in northwest Roger Mills County – north of Woodward – and in Dewey County.  The Dewey County fire became the largest, stretching nearly 30 miles by late evening.
This is a large download, but an excellent presentation of the fires as seen by satellite:  LINK
I drove to the Dewey County fire and witnessed some incredible fire behavior.  A few images from the trip:
Fire danger will remain extreme on Friday the 13th.  The dryline will push east of Oklahoma City by early afternoon.  Gusty southwest winds, low humidity and warm temperatures will cause fire danger to once again rise rapidly.  The large fires over northwest Oklahoma are not likely to be extinguished overnight, and will be capable of spreading out of control once conditions deteriorate on Friday.
Friday fire weather threat: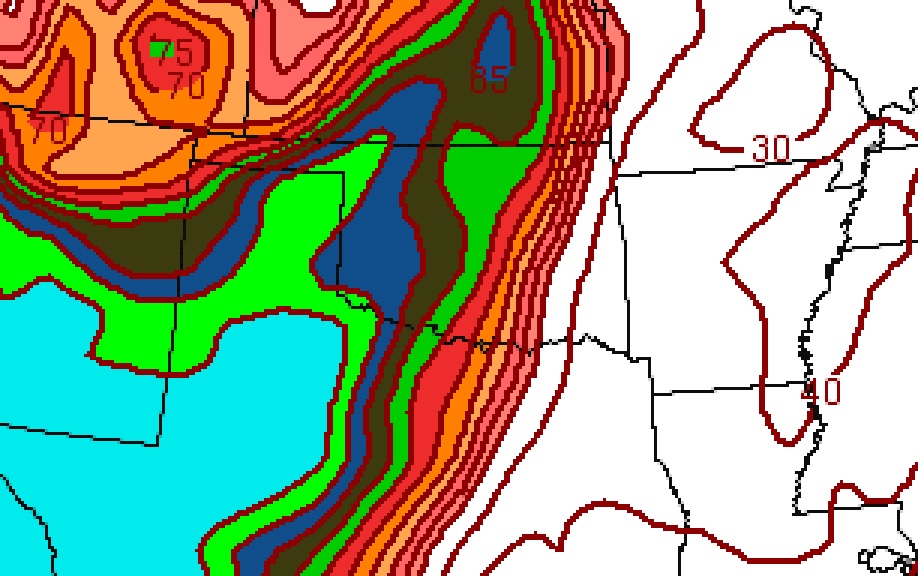 Friday, April 13, 2018:
Fires across western Oklahoma continued to rage on Friday.  The largest fire grew from the Dewey County fire complex that began on Thursday.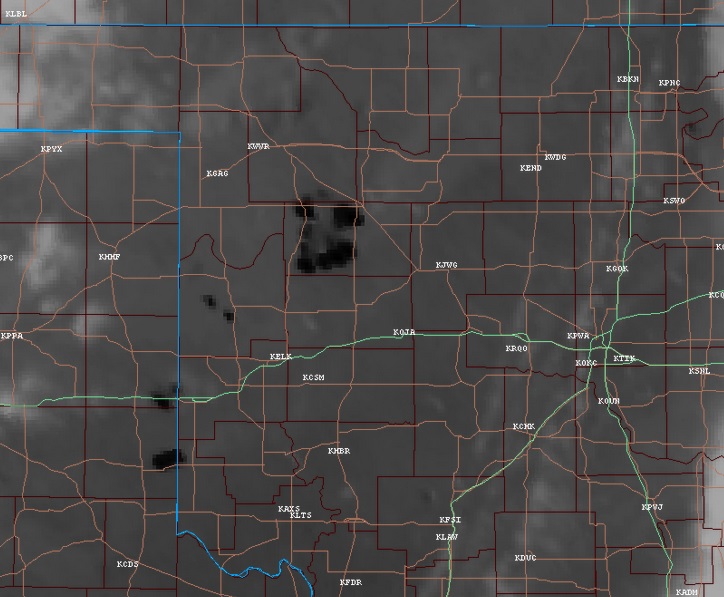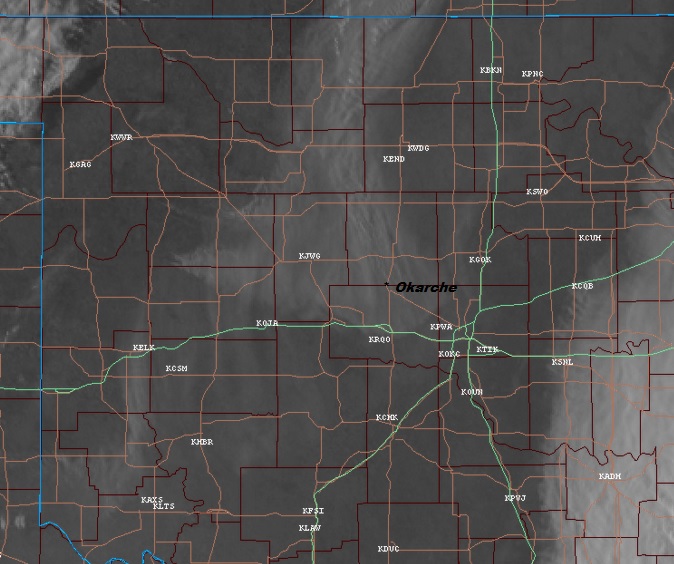 The wind in Okarche started the day from the southwest.  It shifted to the west and northwest during the afternoon and evening.  This brought ash and smoke into Okarche, reducing the visibility by sunset to around one mile.
Saturday, April 14, 2018:
The "Rhea Fire" in Dewey County continues to burn out of control on its southeast flank, with an active head approaching northeast Custer County.   It has been a very windy day across Oklahoma with northwest winds gusting to between 45 and 60 mph.  The peak wind in Cheyenne has been 58 mph, and in Okarche, 57 mph.  If the day ended at 4 pm, the average wind speed of 25 mph in Okarche would be our highest of record.  The wind will be falling off the remainder of the day, so the average will be less.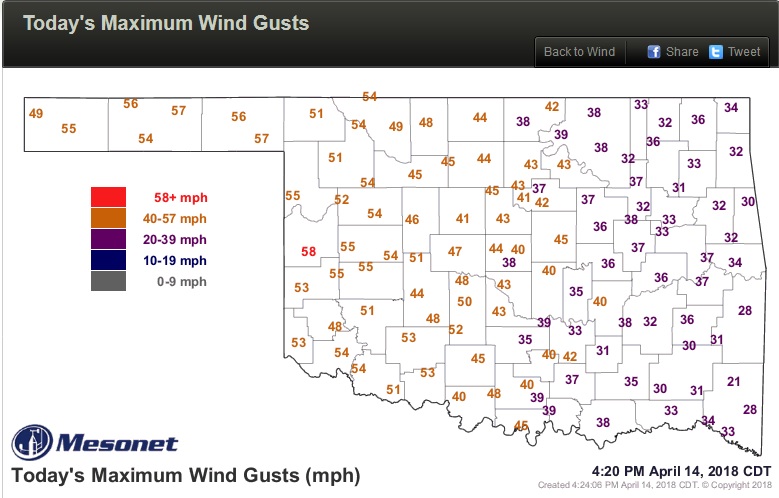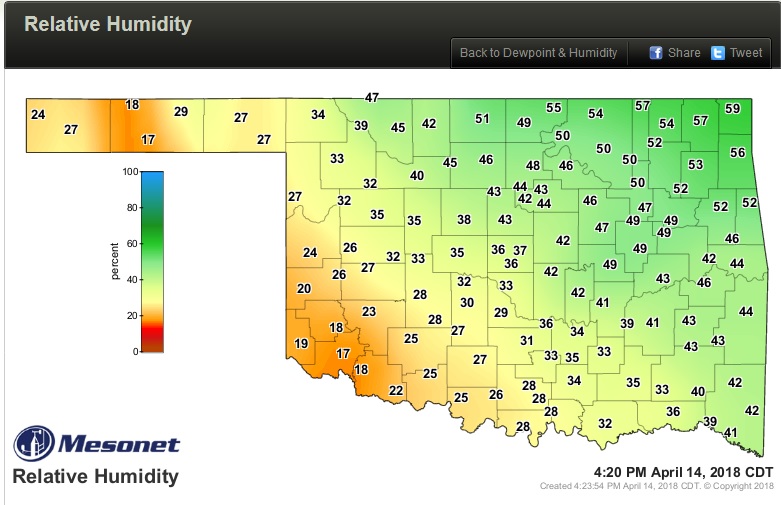 Humidity values have improved over those of Thursday and Friday, but remain low enough (around 30% at the fire ground) to cause problems.
At an estimated 240,000 acres burned, this is one of the largest fires ever recorded in Oklahoma.  It has grown considerably since that estimation, and has the chance to become one of the top ten largest fires recorded in the Southern Plains.