Severe thunderstorms developed across a large part of Oklahoma on the 21st and a Tornado Watch was issued.
Rocky Rascovich was along for the ride as we drove to southwest Oklahoma and targeted storms over western Tillman and southern Kiowa counties.
The first activity we came across was near Snyder.  Here, a storm had split with the left mover producing very large hail as it moved northward, while the right moving storm decreased in size and looked generally uninteresting.  We drove south on Highway 183 through Manitou and observed a rapidly increasing storm to our southwest.
This storm also send off a left mover, but the remnant right moving storm maintained volume and exhibited supercell characteristics early.  Very large hail started falling with the storm and we measured 2.35 inch hail in Manitou on our trip back north and east.
Between Manitou and Indiahoma, rotation began increasing with the storm and we observed a well defined funnel cloud to the south southwest of Indiahoma.  There were reports that this feature was a weak tornado, but we didn't see hard evidence of that from our vantage.
Funnel and radar at the time: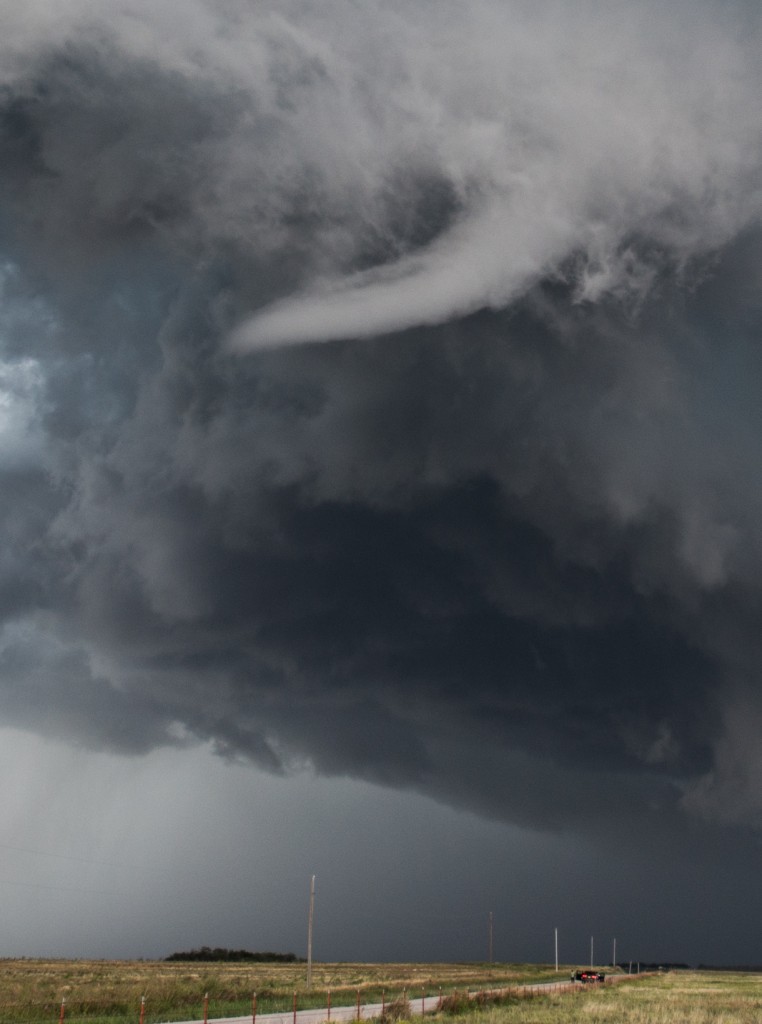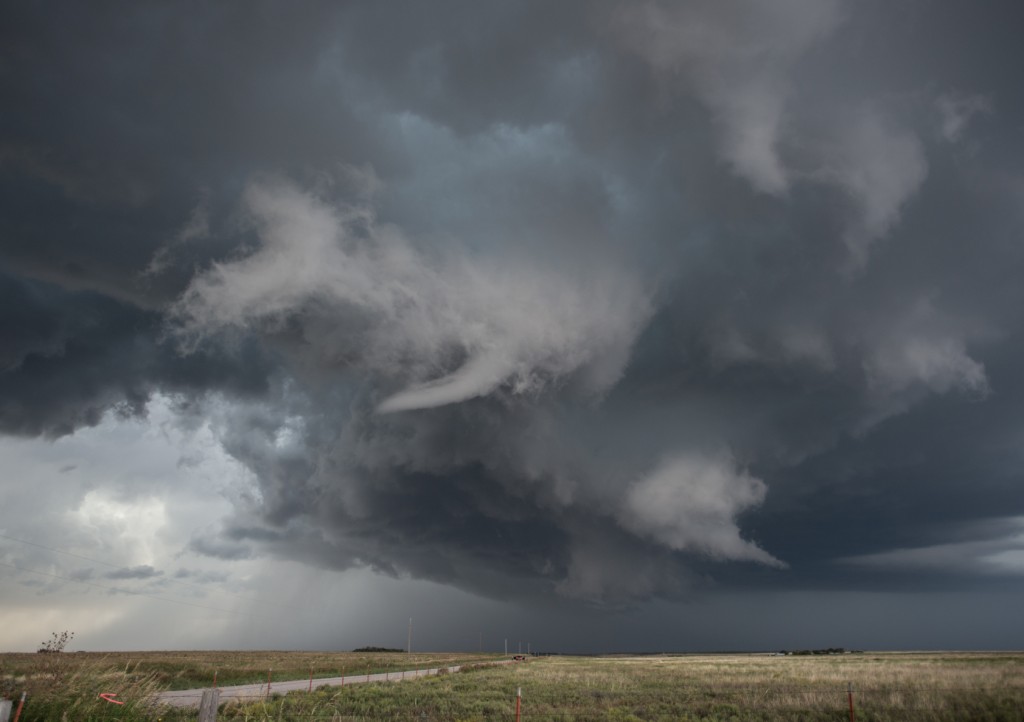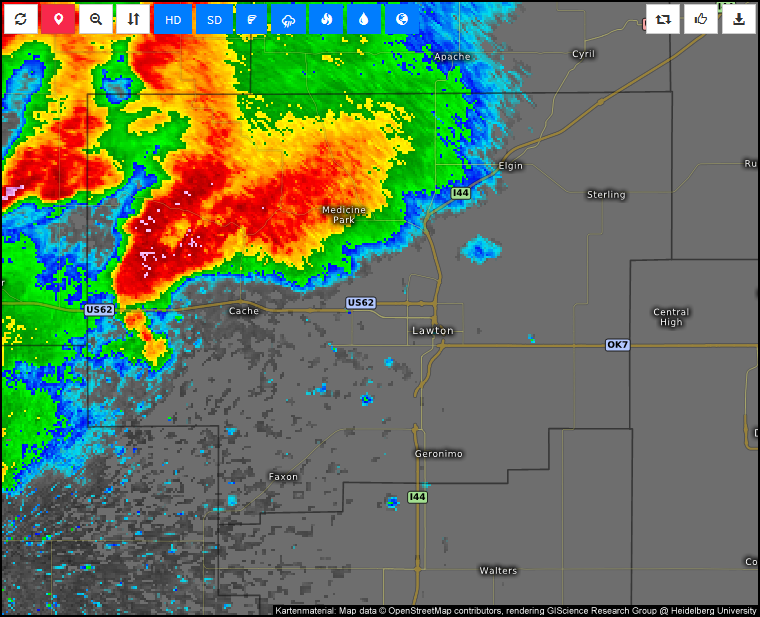 The mesocyclone started to become wrapped in rain as we drove east on Highway 62 toward Lawton.  We basically cut through the center of the meso on our drive and experienced an abrupt north to south wind shift with sustained winds between 40 and 50 mph on both sides.  Again, there were reports that a tornado occurred here, but we never saw enough to confirm that.  The rain curtains contained a considerable amount of leaves, but nothing larger.
We stopped at the Cache exit to get a few pictures of the impressive storm to our northwest.  If a tornado was occurring at this point, it was distant and very low contrast for us.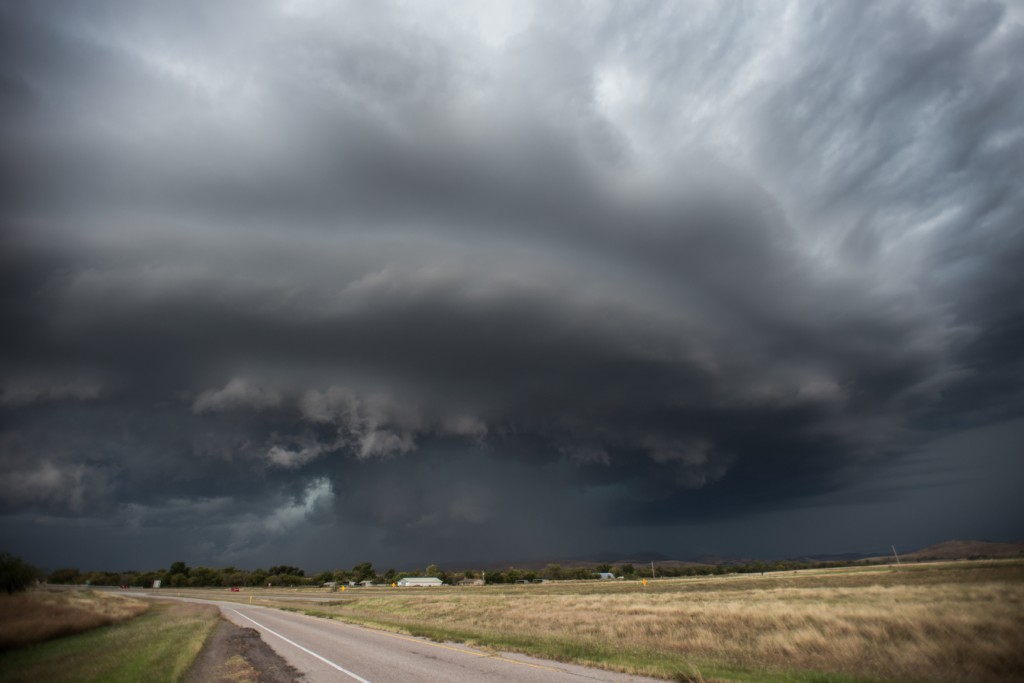 Navigating around Fort Sill, we went east to I-44 and north, exited on to Highway 281 and stopped near Richards Spur (south of Apache).  Darkness was quickly approaching at this point and our chase day was basically finished.  Radar didn't show strong indications that a tornado was occurring, but the storm was still quite impressive.
Storm and radar at the time: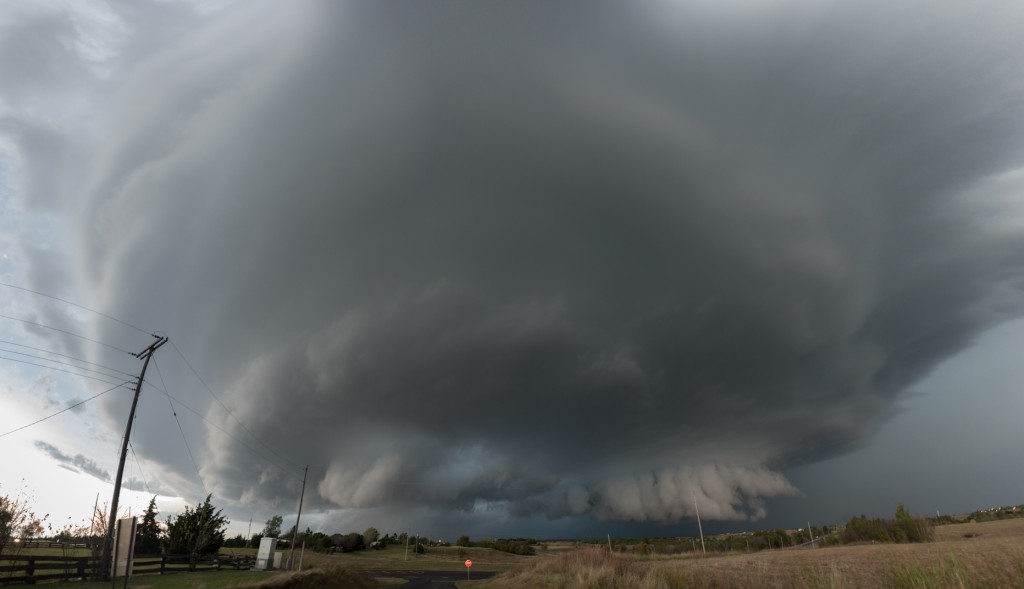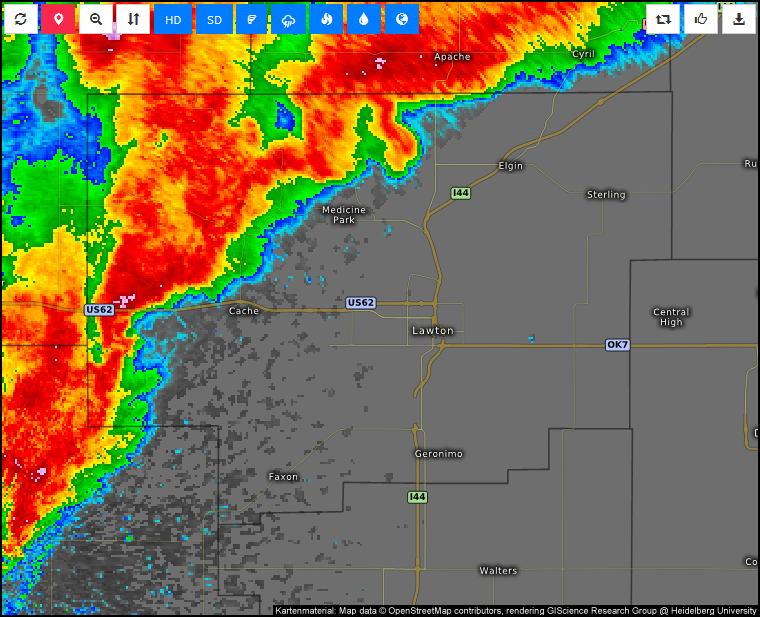 We started home on the H.E. Bailey Turnpike.  The storm was off to our west and northwest, and we were pretty much precipitation free on our ride to Chickasha.  Before we got to our exit, the storm had reorganized and became quite intense.  A tornado / possibly a large and long-lived tornado / was likely occurring several miles to our west southwest.  We made a half hearted attempt to drive west out of Chickasha in hopes of seeing something, but the danger area had become heavily rain-wrapped and was moving in our direction.  We made the safe choice and started north on Highway 81 to allow the storm to pass to our south.  Heavy traffic slowed us down and we ended up getting clipped by a bit of hail and heavy rain, but nothing too serious on our way back to El Reno for dinner.