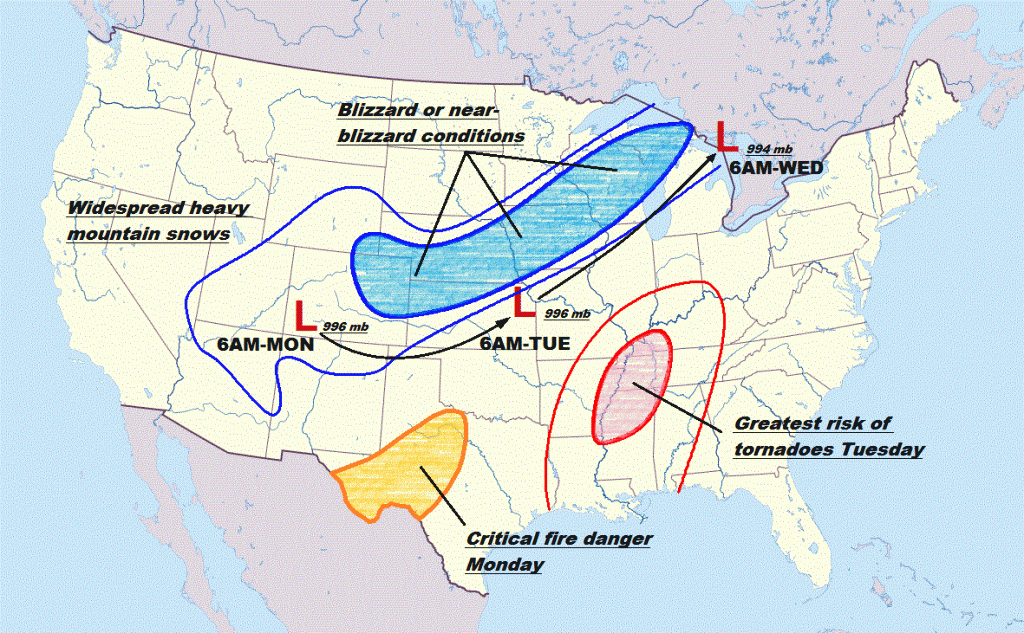 A powerful upper storm will be moving quickly across the middle part of the country during the first part of the upcoming work week.  Heavy mountain snows are already occurring from the Southwest U.S. to the Central Rockies.  As a deep surface cyclone moves across the Plains and Midwest, blizzard or near blizzard conditions will occur from eastern Colorado to Iowa to Upper Michigan.  Blizzard watches are in effect for southeast South Dakota, southern Minnesota, eastern Nebraska and much of northern and western Iowa.
In the warm sector, severe thunderstorms will be possible from the Ohio Valley to the Lower Mississippi Valley.  The greatest risk of tornadoes will come Tuesday from far western Kentucky to western Mississippi.
High winds and critical fire danger will exist across much of west and southwest Texas on Monday.
UPDATE: 9:26 PM CST SUN JANUARY 31, 2016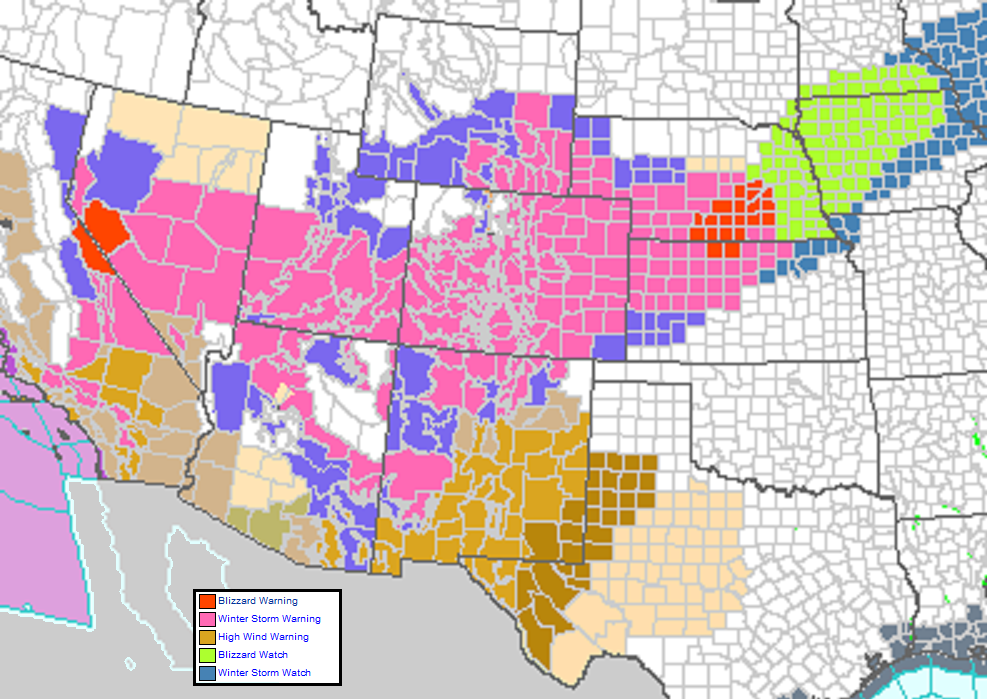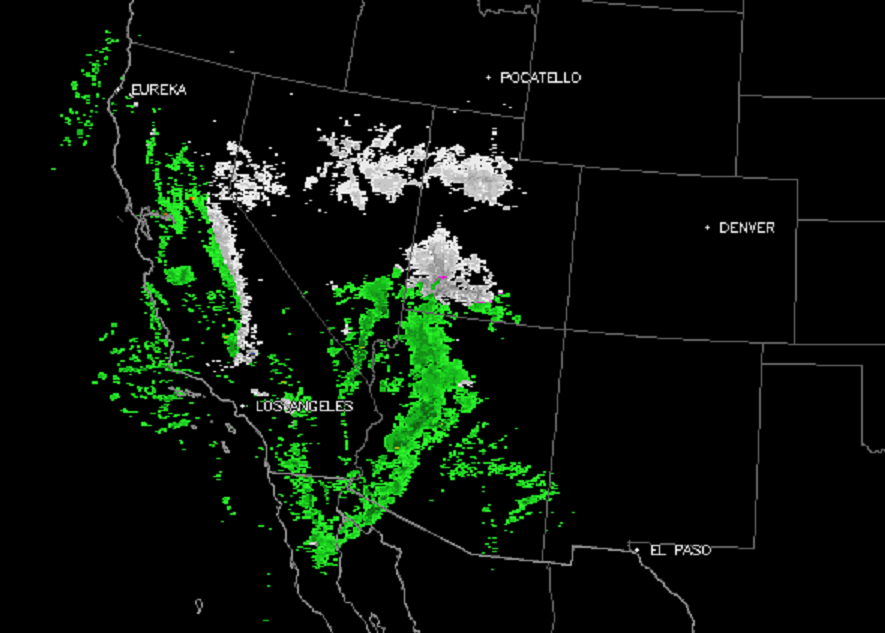 Widespread precipitation has broken out from Utah and Arizona westward to the coast.  There has been excellent model consistency concerning this powerful storm system, and confidence in the forecast track is high.  With this, there have been a number of locations see watches become warnings this evening.  Blizzard warnings are in effect for a small part of California and Nevada, as well as parts of northern Kansas and southern Nebraska.  Many places are under a Winter Storm Warning.
UPDATE: 8:28 PM CST MON FEBRUARY 1, 2016: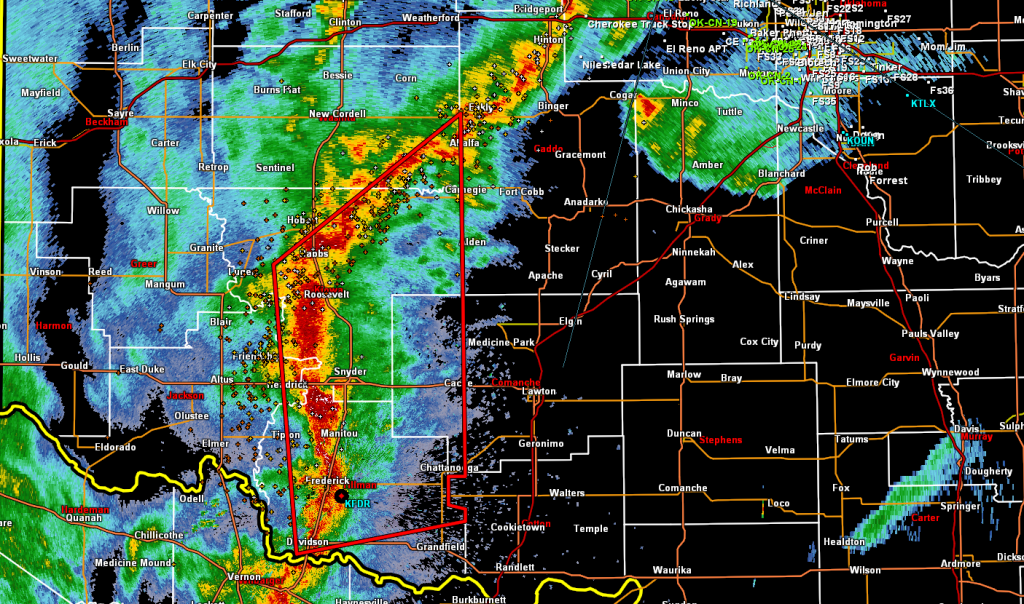 Severe thunderstorms have developed over southwest Oklahoma this evening and are moving rapidly to the northeast.  There will be the potential for a few severe thunderstorms in the OKC metro area this evening.  The National Weather Service in Norman has just issued their first Severe Thunderstorm Warning of 2016.
On the winter side of things, very heavy snow is now developing from central Nebraska southwestward across Colorado.  Blizzard warnings are now in effect from north central Kansas and south central Nebraska – northeastward into Iowa, southeast South Dakota and southern Minnesota.  Earlier today, one could have driven from Bishop, California to Marquette, Michigan and been in either a Winter Storm Warning or Blizzard Warning the entire way.
UPDATE: 1:38 PM CST TUE FEBRUARY 2, 2016: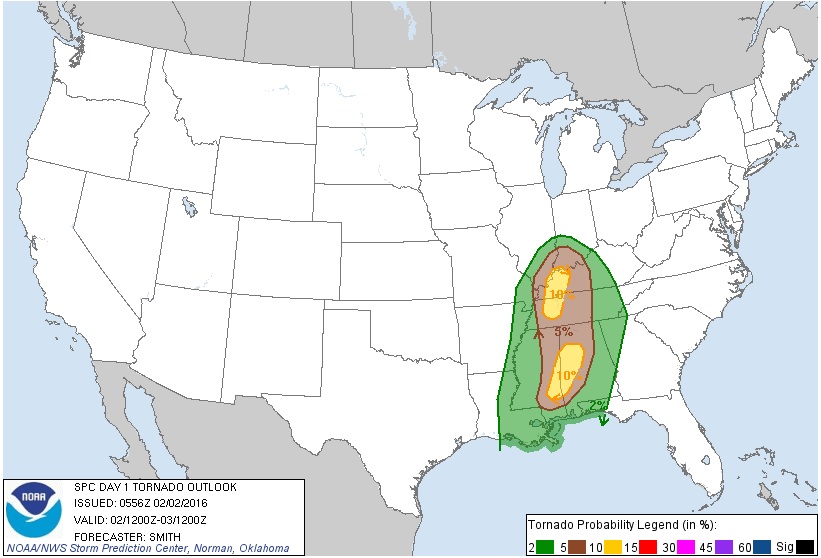 The latest severe weather outlook from the Storm Prediction Center for Tuesday shows a tornado risk from southern Illinois and Indiana southward to the Gulf of Mexico.  There are two areas with higher risks – 1) over western Kentucky and Tennessee and 2) eastern Mississippi and western Alabama.
UPDATE: 7:10 PM CST TUE FEBRUARY 2, 2016: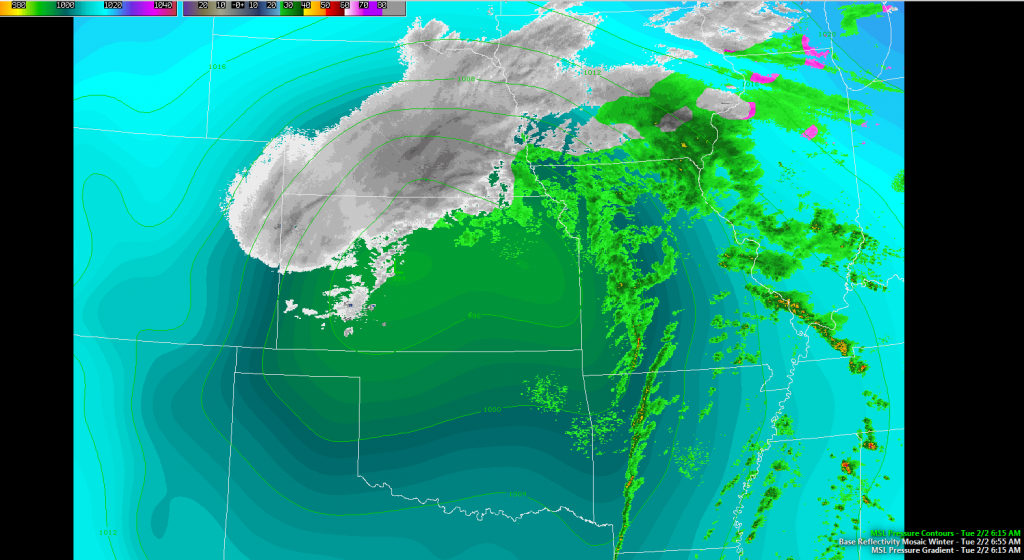 Deep low pressure is located over central Kansas this morning.  Snow extends from southern Wisconsin westward across Iowa, Nebraska, eastern Colorado and northwest Kansas.  The snow over Nebraska is particularly heavy with some bands producing 1 to 2 inches of snowfall each hour.  Winds are gusting between 45 and 52 mph resulting in blizzard conditions over south central and southeast Nebraska.  The area covered by a a Blizzard Warning has changed little – extending from northwest Kansas to southern Minnesota.
UPDATE: 1:37 PM CST TUE FEBRUARY 2, 2016: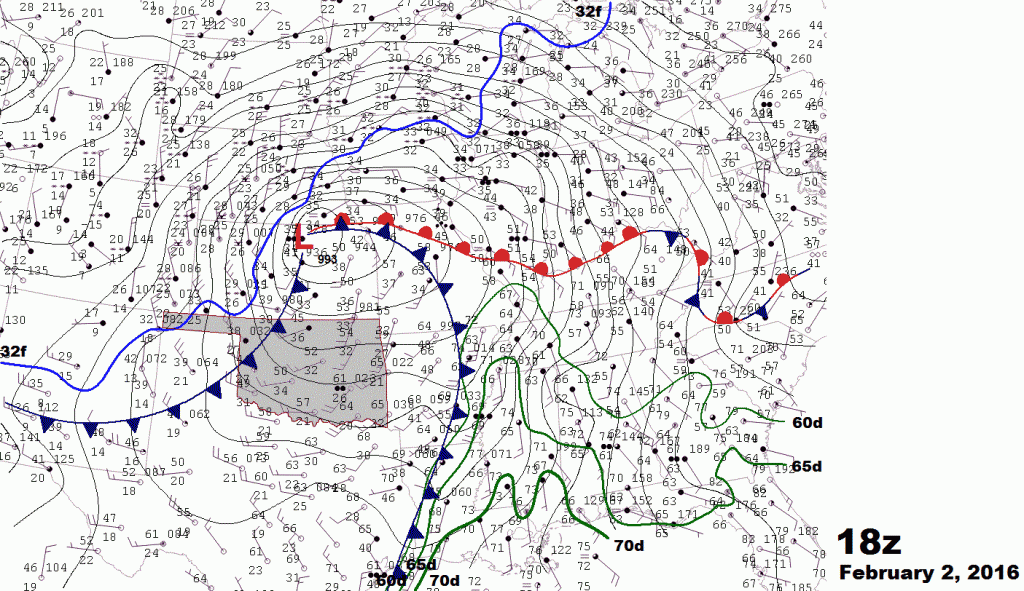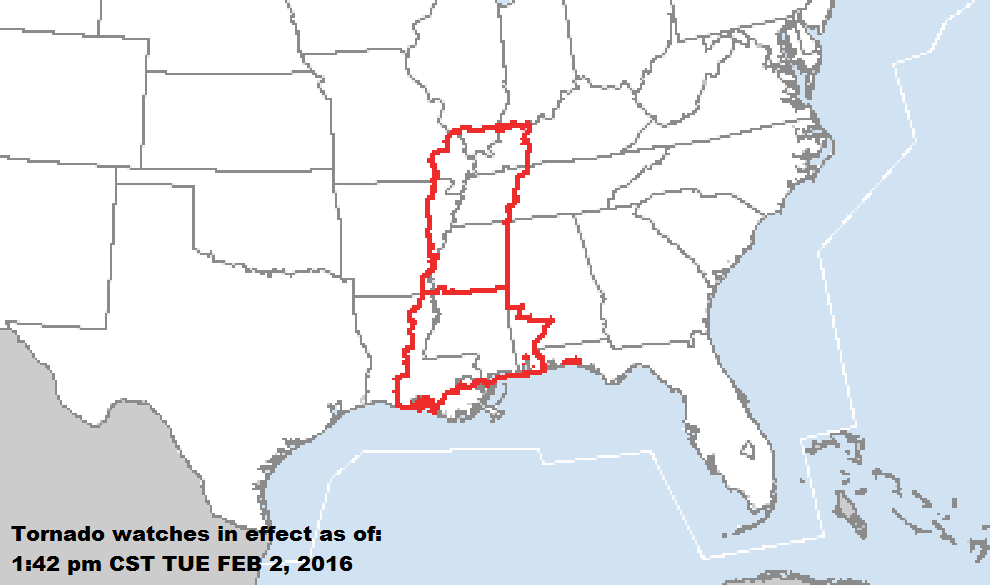 Deep low pressure is located over north central Kansas.  Widespread heavy snow / with localized blizzard conditions / extend from Wisconsin to Nebraska and eastern Colorado.  Very heavy snow is also falling as far northwest as the Black Hills.
The atmosphere has become quite unstable over the Middle and Lower Mississippi Valley.  Thunderstorms have been getting better organized over the last couple of hours and two tornado watches are in effect.  Storms over central Mississippi have starting exhibiting supercell characteristics over the last hour.  This rotating storm moved by Carthage, Mississippi: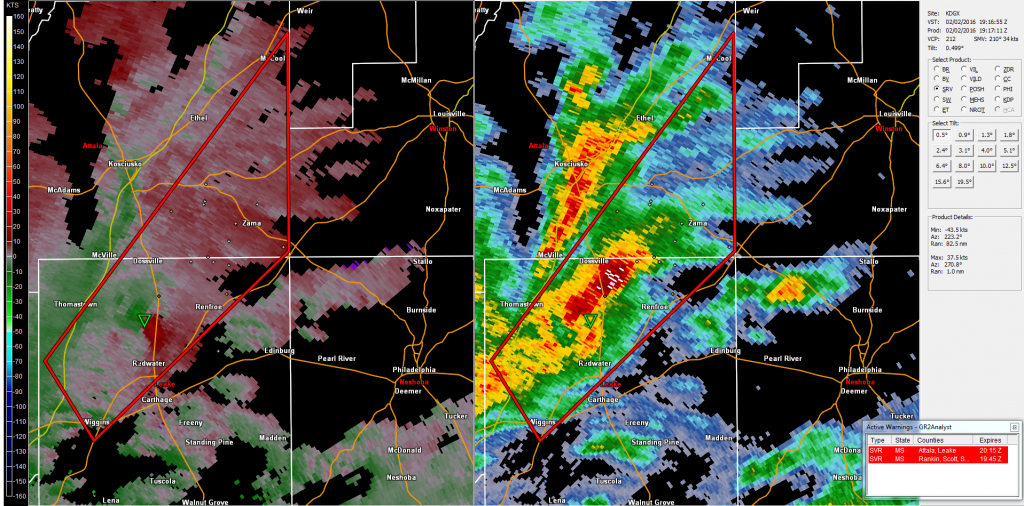 UPDATE: 2:57 PM CST TUE FEBRUARY 2, 2016:
Severe weather has ramped up quickly over the last hour and several storms over Mississippi and western Tennessee have been tornado warned.  The strongest storm is producing a tornado just southeast of Newton, Mississippi.  Radar is detecting debris created by the tornado: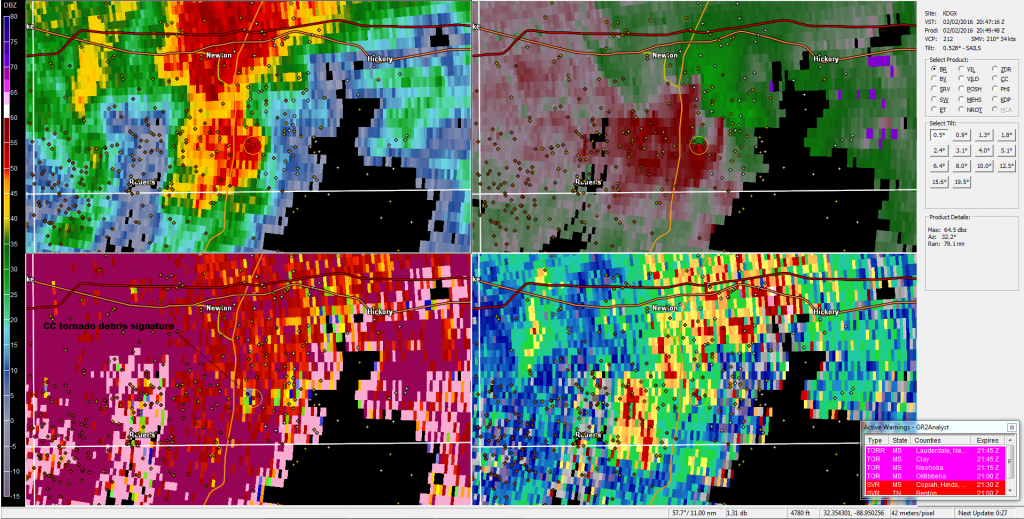 UPDATE: 4:32 PM CST TUE FEBRUARY 2, 2016:
A tornado producing supercell is getting ready to move into Alabama from Mississippi.  The storm is passing just southeast of Paulette, Mississippi: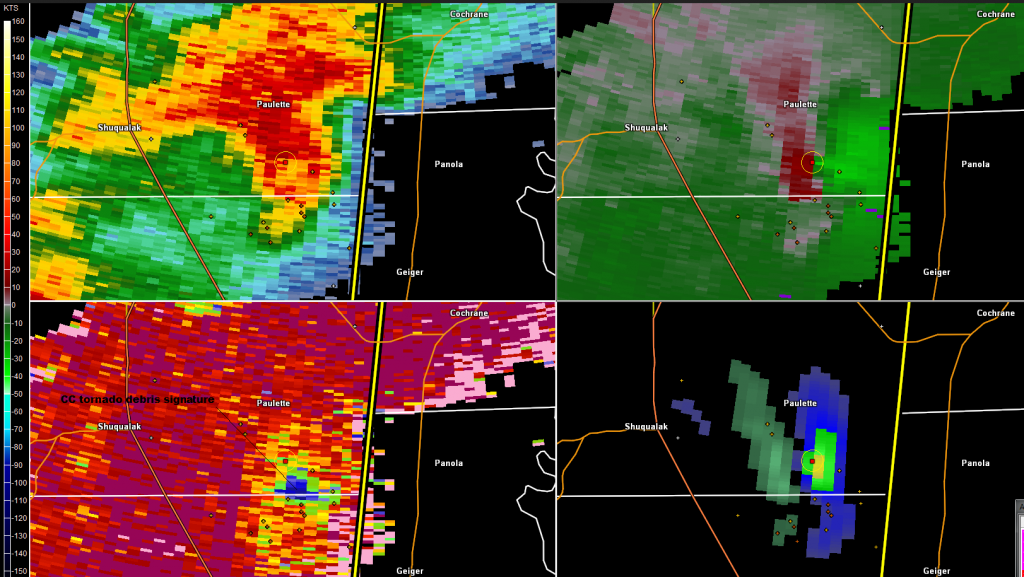 UPDATE: 4:59 PM CST TUE FEBRUARY 2, 2016:
A Tornado Emergency has been issued for the city of Carrollton, Alabama.  The radar presentation is one that would suggest a strong or violent tornado is approaching the city: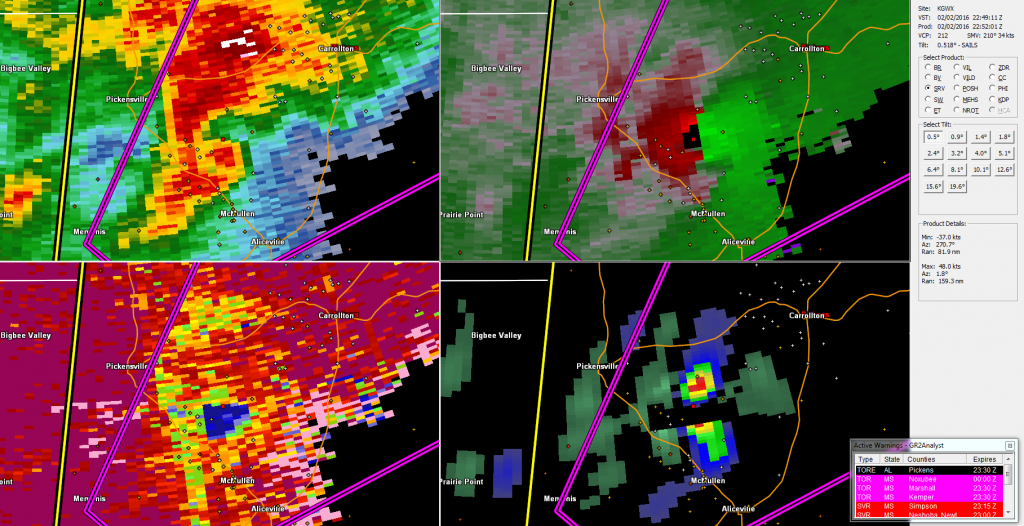 UPDATE: 5:06 PM CST TUE FEBRUARY 2, 2016:
It appears that a very large tornado may have just missed Carrollton, Alabama to the northwest of the city.  Still, Google Earth imagery shows quite a few rural buildings and houses were in the track path, and a large debris signature is showing up on radar: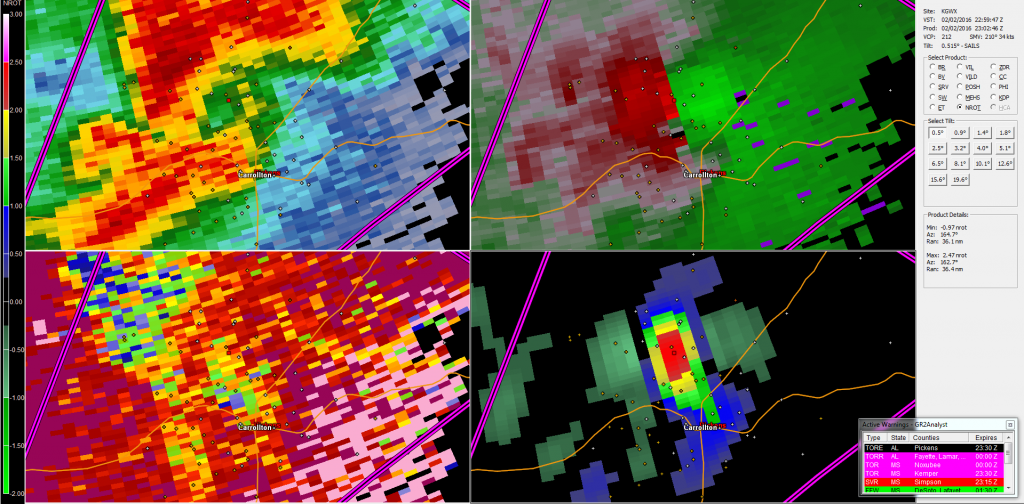 UPDATE: 7:52 PM CST TUE FEBRUARY 2, 2016: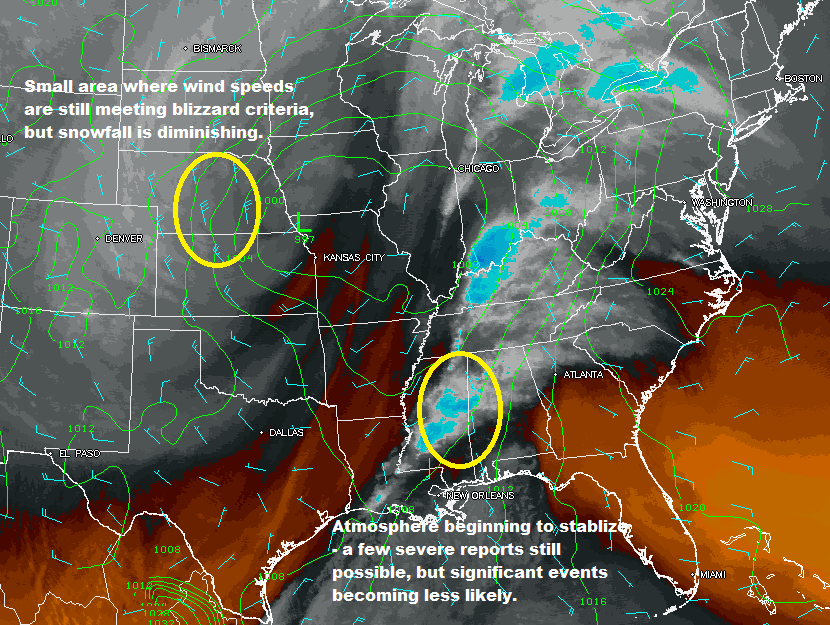 Both warm and cold weather related events are beginning to wane this evening.  On the severe thunderstorm side of things, the atmosphere has become much more stable over the last couple of hours.  Given the strength of the wind shear, a few severe events are still possible this evening, but significant events are less likely.
Concerning the blizzard, snowfall rates have steadily decreased over the last few hours with almost no station reporting a snow intensity greater than light.  Winds have also weakened with only a small area over Nebraska and north central Kansas seeing winds that would meet blizzard criteria.  Even though snowfall rates have decreased, there still may be ground blizzards created by blowing snow.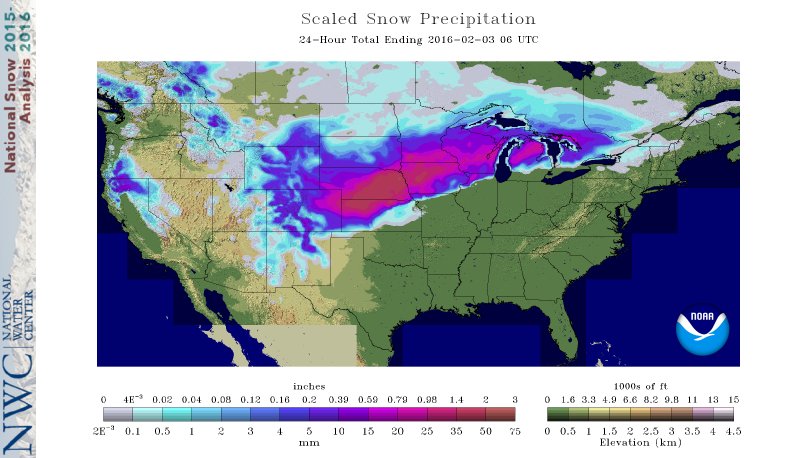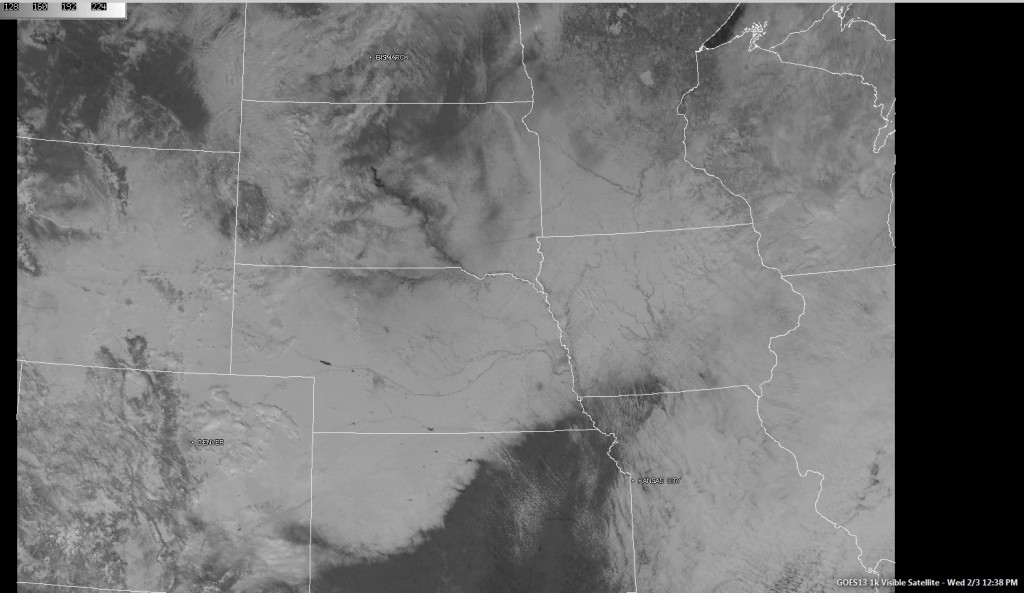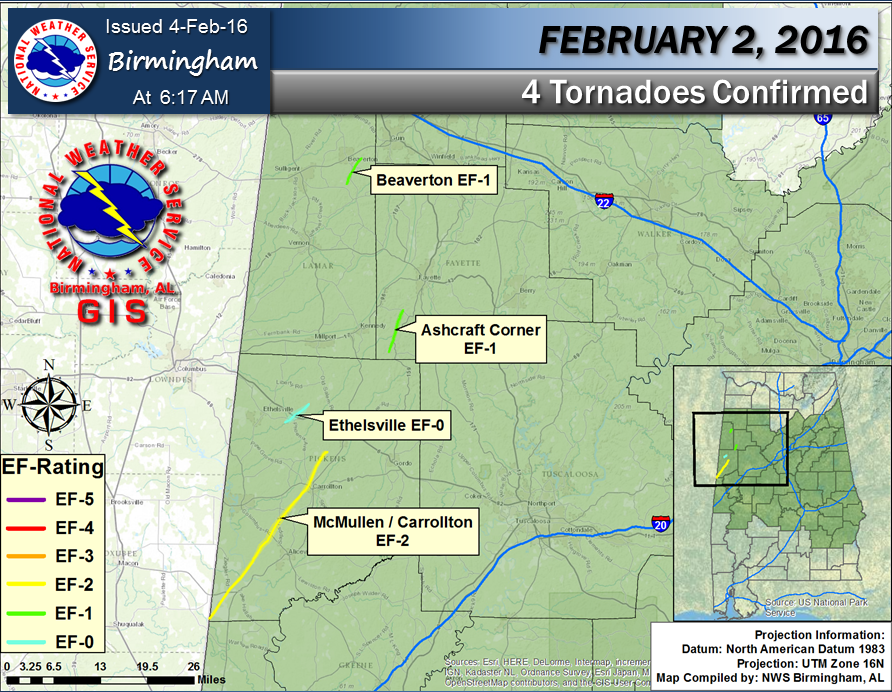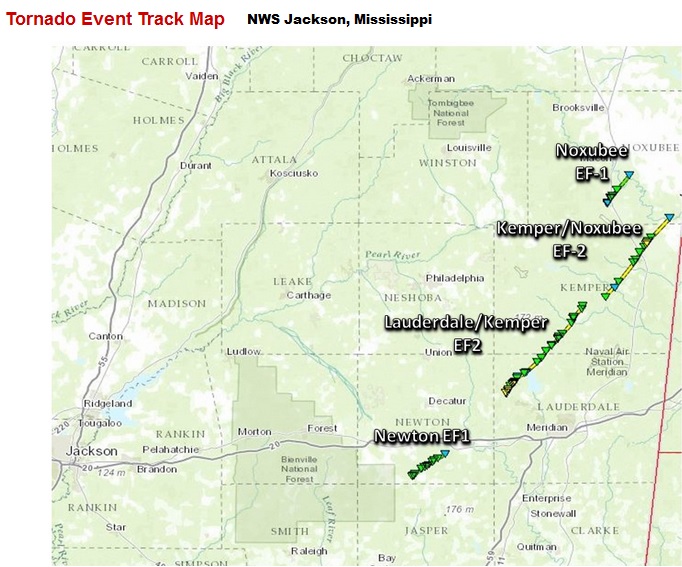 Grand Island, Nebraska saw more than 18 inches of snow with this event.  Some amazing pictures of snow can be seen on this page:
http://www.weather.gov/gid/feb22016blizzard
http://www.weather.gov/oax/GrounhogDayStormWrap
http://www.weather.gov/fsd/news_snowfall020216