Daily Archives: September 11, 2015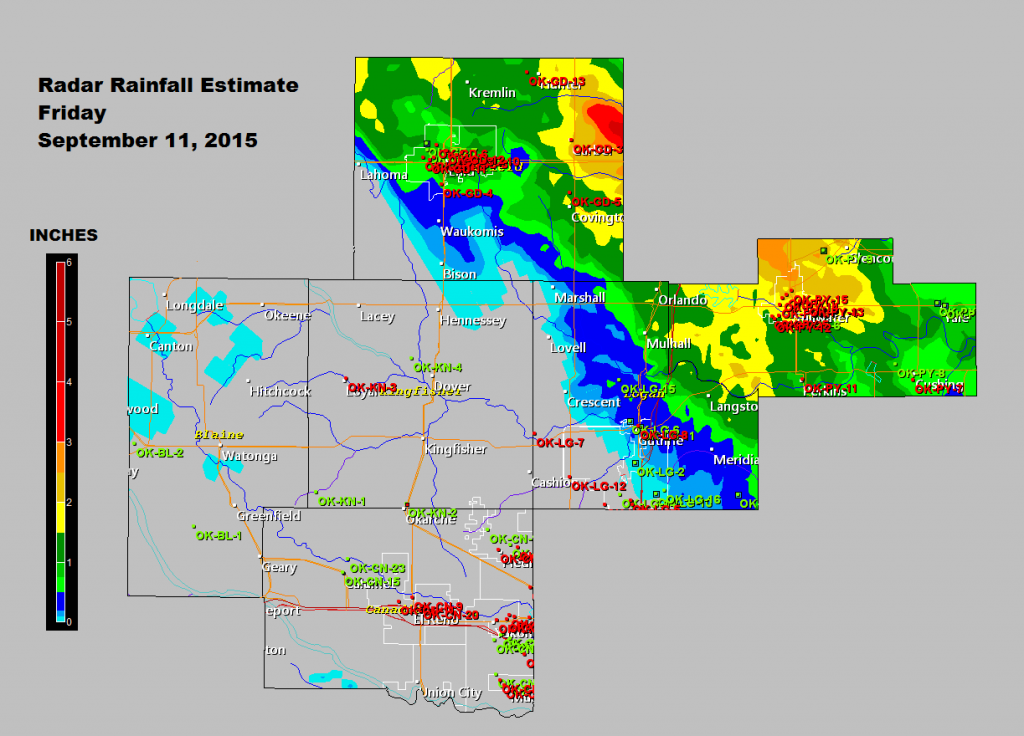 Showers and thunderstorms moved southeastward from Kansas during the morning hours.
Most of Blaine, Kingfisher and Canadian counties stayed dry during this event.  Radar rainfall estimates matched ground observations very well, and some very heavy rain fell overnight, especially across Garfield and Payne counties.  It is estimated that over 4 inches of rain fell over a small area of eastern Garfield County.  Between 2.5 and 3 inches likely fell over northwest Payne County.
CoCoRaHS rainfall:
2.16 INCHES – OK-PY-9 – 3.0 W GLENCOE
0.83 INCHES – OK-GD-7 – 3.6 WNW ENID
0.60 INCHES – OK-PY-10 – 0.6 WNW YALE
0.49 INCHES – OK-PY-16 – 0.4 E YALE
0.05 INCHES – OK-LG-13 – 6.0 N LUTHER
0.04 INCHES – OK-LG-6 – 3.7 NNW GUTHRIE
0.03 INCHES – OK-LG-11 – 2.9 N GUTHRIE
0.01 INCHES – OK-LG-10 – 5.8 NNE EDMOND
0.01 INCHES – OK-LG-2 – 1.9 S GUTHRIE
Non-CoCoRaHS rainfall:
2.60 INCHES – PAYNE COUNTY – STILLWATER AIRPORT
1.75 INCHES – PAYNE COUNTY – 2 W STILLWATER (MESONET)
1.69 INCHES – PAYNE COUNTY – 5 E ORLANDO (MESONET)
1.65 INCHES – PAYNE COUNTY – 3 WNW STILLWATER
1.59 INCHES – PAYNE COUNTY – STILLWATER AG FARM
1.45 INCHES – PAYNE COUNTY – 7 N COYLE (MESONET)
1.30 INCHES – PAYNE COUNTY – 2 NNW PERKINS (MESONET)
0.87 INCHES – GARFIELD COUNTY – 3 SE BRECKINRIDGE (MESONET)
0.75 INCHES – LOGAN COUNTY – 1 SE MULHALL
0.57 INCHES – GARFIELD COUNTY – ENID
0.13 INCHES – LOGAN COUNTY – MARSHALL
0.09 INCHES – LOGAN COUNTY – GUTHRIE-EDMOND REGIONAL AIRPORT
0.05 INCHES – LOGAN COUNTY – 4 SSE MARSHALL (MESONET)
0.01 INCHES – LOGAN COUNTY – 4 WSW GUTHRIE (MESONET)