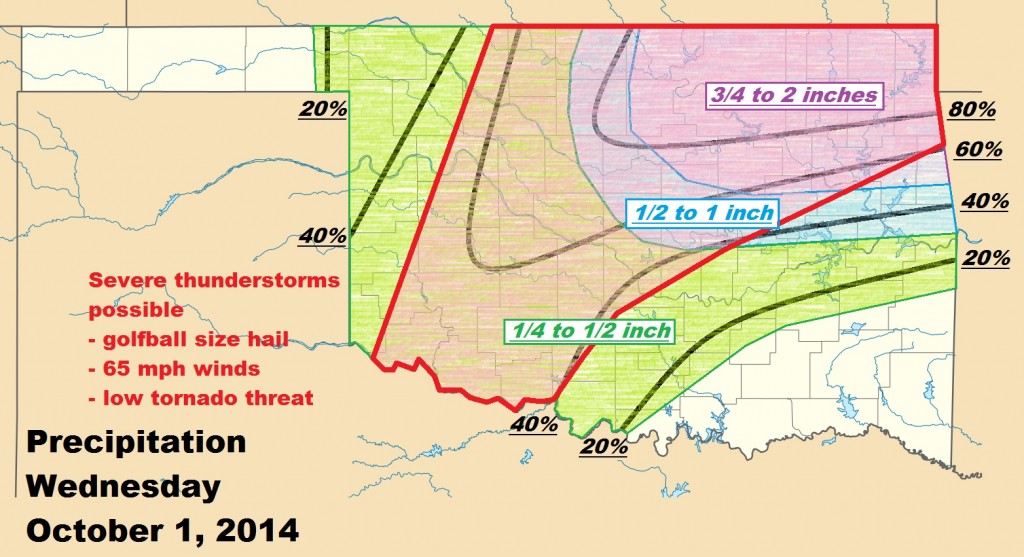 A considerable number of small differences with potential significant impacts exist across the suite of models this morning, leading to less than normal confidence in the forecast.  It is expected that a strong upper level low over Nevada will open up and lift toward the Northern Plains by Tuesday morning, as a strong mid level jet max rotates around the eastern side of the low.  The wave will lift toward Southern Manitoba by Wednesday.  In its wake, a band of moderately strong mid level flow will carve out a broad trough over the Western U.S.  There are several differences in model solutions with regard to timing and the strength of waves that will be embedded in the flow.
The weather will be mild across the state on Monday with southerly winds and temperatures slightly above normal.  On Tuesday, a deep surface cyclone associated with the lead wave will be moving northeast across the Dakotas, with a trough extending southward to a secondary low near the Kansas/Colorado border.  A dryline will extend from this low southward across the eastern parts of the Oklahoma and Texas panhandles.  Low level moisture will gradually increase east of the dryline, and by late afternoon the atmosphere will become moderately unstable.  The 18z GFS suggests that a wave embedded in the mid level flow will be moving across the High Plains.  This combined with afternoon heating and convergence along the dryline should be sufficient for the development of scattered showers and thunderstorms.  Storms over Western Oklahoma late on Tuesday will spread across the northern half of the state through Wednesday morning.  A few of the storms may be severe with a hail and damaging wind threat.    Tuesday will be another day with temperatures slightly above normal.
A greater risk of severe thunderstorms will come on Wednesday.  As a dryline pushes eastward toward Central Oklahoma, a surface low will be located along it near the Kansas border.  Moisture should be deep enough by Wednesday to result in a very unstable atmosphere east of the dryline.  Once again, afternoon heating, convergence along the dryline and subtle mid level lifting will be sufficient for the development of storms, with the greatest threat near the surface low over North Central and Northeast Oklahoma.  Large hail and damaging winds will once again be possible, but forecast soundings and hodographs suggest that a low end tornado threat will also exist.  Temperatures on Wednesday will be above normal, but a cold front will enter Northwest Oklahoma late in the day and cooler air will begin to filter into the state.
Okarche Weather:
Monday morning: 61
Monday: 84
Tuesday morning: 63
Tuesday: 85
Wednesday morning: 66 / Showers and thunderstorms possible
Wednesday: 89 / Showers and thunderstorms possible