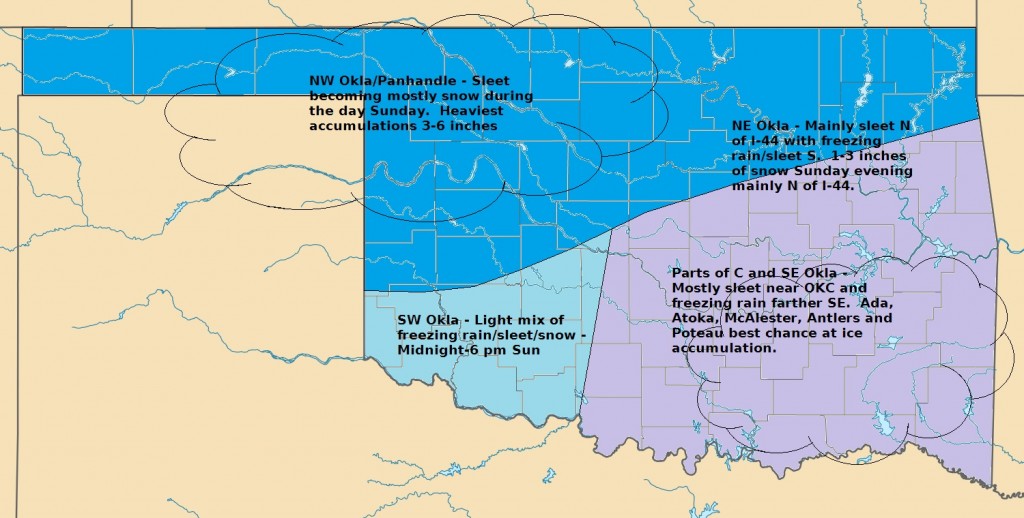 Very cold air will surge southward across the state Saturday.  A strong upper storm system will be approaching from the Southwest U.S.
This system will generate lift across the state starting very late on Saturday and continuing through the day Sunday.  Most of the precipitation Sunday morning will be light, but with freezing temperatures in place, minor accumulations are expected to cause travel issues across a large part of the state.
Forecast soundings suggest a wide range of precipitation type across the state with freezing rain expected across the Southeast… a zone of sleet from Southwest to Northeast Oklahoma… and sleet becoming snow across the Northwest and Panhandle.
As the main system comes out Sunday afternoon, heavier snow is expected to develop from the Panhandle to West Central Oklahoma.  This snow will spread northeastward during the afternoon and evening with some significant accumulations possible.
The other significant impact of this storm will be the extreme cold.  Temperatures will likely drop to near record levels before the arctic air moves out next week.  Sunday will be bitter cold with temperatures steadily falling into the teens and gusty north winds causing wind chills to drop below zero.  By Monday morning, temperatures will likely drop below zero across a large part of Northwest and North Central Oklahoma, with single digit temperatures elsewhere.  Monday will continue cold and then another night of bitter cold is likely into Tuesday morning when some temperatures across Northern Oklahoma will once again drop below zero.