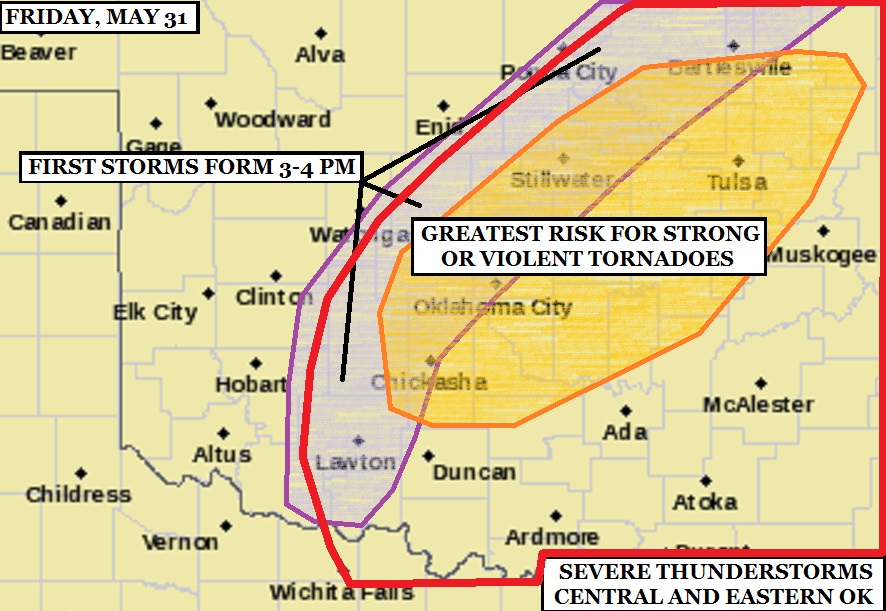 …DANGEROUS STORMS POSSIBLE TODAY IN CENTRAL AND EASTERN OKLAHOMA…
An upper level low pressure area is found over the Northern Plains this morning.  A strong jet segment curves cyclonically from the Colorado/New Mexico border to Kansas to Wisconsin.  Oklahoma is found near the southern edge of these stronger winds, and in a position favorable for thunderstorm formation relative to an embedded short wave trough which will move across the Southern and Central Plains this afternoon.
The surface weather map currently shows a low pressure area near the southwest corner of the state.  This low is forecast to deepen significantly during the afternoon.  A front will extend from the low northeastward into NC Oklahoma and a dryline will push eastward through the southwest section of the state.  These features will be the focus for thunderstorm development later today.
The atmosphere east of the dryline and south of the front is very moist and will become extremely unstable this afternoon.  Forecast wind profiles show strong deep layer shear across the state, and increasing low level shear by late afternoon and evening.
Thunderstorms are expected to develop from NC Oklahoma to west of the Oklahoma City area to north of Lawton by 4 pm.  All indications are, these storms will rapidly become severe and supercell in nature.  Very large hail to the size of baseballs or larger, damaging winds, and tornadoes will occur today.  Given the forecast shear profiles and instability, some strong or violent tornadoes are possible if storm mode evolves as expected.  The Oklahoma City and Tulsa metro areas are in the region of enhanced risk.  All people living in Central and Eastern Oklahoma should pay close attention to the weather and heed warnings this afternoon.