Numerous showers and thunderstorms are quickly forming across north central and northwest Oklahoma. These will continue to intensify and expand in coverage as they spread southeastward into central Oklahoma overnight and during the day on Thursday. This may be one of the better chances of rain we have seen in quite some time.
A few more images have been processed from the storm chase of 17-Sep – where a supercell storm tracked across Major and Garfield Counties:
A You Tube video time lapse of 160 images from the evening: http://www.youtube.com/watch?v=Os_ZCDOqxwQ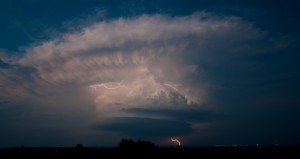 Finally, the Fall Migration of the Monarch is kicking into high gear.  We sat for an hour tonight watching beautiful Monarchs use our garden for a stopping ground.