Very severe weather events visited Kingfisher and Canadian Counties on May 23rd and May 24th.  For Okarche, the overall damage was fairly minimal.
The fun started on the afternoon of the 23rd when severe thunderstorms formed in western Oklahoma.  We chased storms that day and ended up seeing a brief tornado in northern Blaine County.  After dark – and after returning to home – severe storms continued to form to our northwest and drive southeastward toward the town.  Most were missing us just to the northeast, but a very intense storm finally hit the target of Okarche between 9:30 and 10:00 p.m.
Lightning was continuous as the storm approached and radar indicated that very large hail was likely falling with it.  There was a strong meso-cyclone associated with the storm, but tornado potential was limited as the storm appeared somewhat elevated.  Still, it was a nasty looking thing when it rolled into town.  As with every storm like this – I always have the thought of what did people a hundred years ago think when they saw this image?
Hail started at the house at 9:36 p.m. and continued until 9:55 p.m.  Most was around golf ball size, but several stones reached tennis ball – baseball and even larger than baseball size.  The largest stone I could find measured 3.10 inches (a baseball is 2.75 inches).
Being "weatherwise" helped.  We got Mari's car under the tree out front, moved in the glass patio table top and moved in several other things that could have been broken by large hail.  A bird feeder was smashed and the garden took a bit of a hammering, but overall we came out pretty good.  Most important, no glass was broken in the cars or the house.  We will be having the roof looked at soon, but given the fact that it sounded like people were smashing the roof with sledge hammers – I bet they will be finding some damage.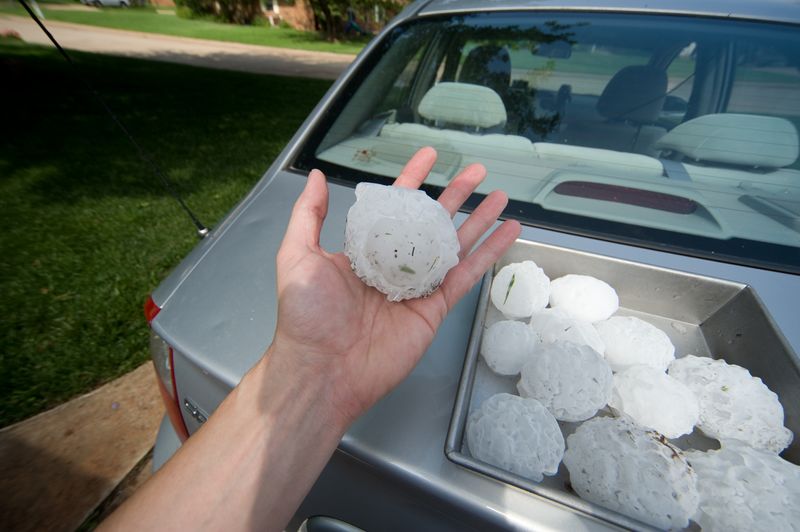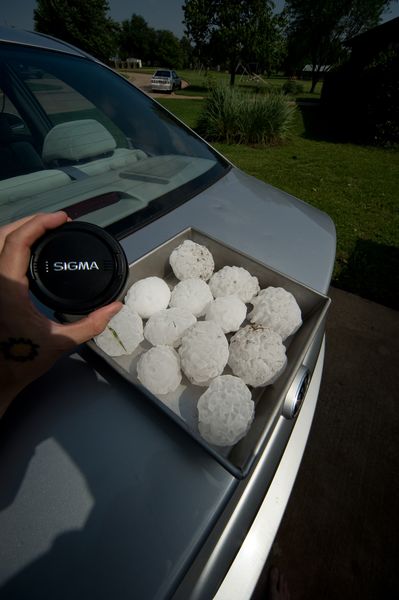 Maximum Expected Hail Size (MEHS) product from the KTLX radar was pretty much right on the number: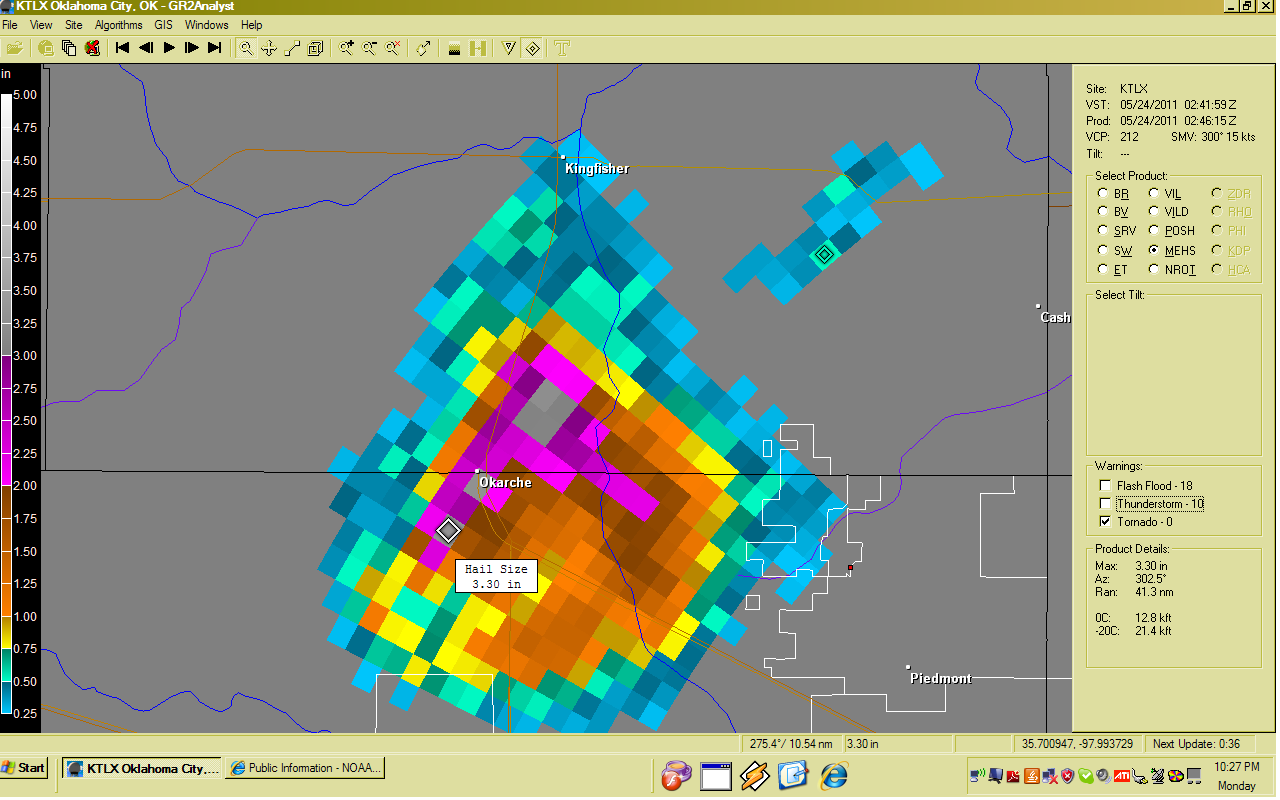 Then came the severe weather events of May 24.  This was a highly publicized event in which numerous strong or violent tornadoes were expected.  In some ways, the event lived up to its billing.  There were numerous tornadoes – some appeared strong or violent – and one was long-tracked.  However, I was a bit surprised to see as few number of tornadoes as we did.  Still, people were killed and there are many families who's lives will never be the same.  For them, the event definitely lived up to its billing.
What was likely the strongest, largest and longest lasting tornado tracked just ten miles southeast of Okarche across a good part of Canadian County.  There was heavy damage in the El Reno and Piedmont areas.
On May 3, 1999 – a strong tornado moved across Highway 3 about eight miles southeast of Okarche.  This tornado did an extensive amount of tree damage that was easily visible from the road.  Driving into and back from Oklahoma City, there was hardly ever a day that I didn't cross that damage path and think about the May 3 event.  It took about five years before the trees had returned to a somewhat normal state, and about another five before it was hard to tell a tornado had passed.  Basically, it's just been over the past two years that things have looked normal along the drive between Okarche and Oklahoma City.
All that changed on the 24th.  The tornado was over a half mile wide as it crossed Highway 3 – taking out homes and trees that I have become used to seeing on my trips.  The tree damage is incredible.  The homes will be rebuilt I expect, but the very wide path of devastated trees will be another scar that I will be seeing for at least another five or ten years – similar to the results from the May 3 tornado.
Roger Edwards is a Mesoscale/Outlook Forecaster with the Operations Branch of the Storm Prediction Center in Norman, Oklahoma.  He is also a fellow storm chaser and was in position on Highway 3 to observe the violent tornado cross.  His picture below is copyright / Roger Edwards and Insojourn /  http://www.insojourn.com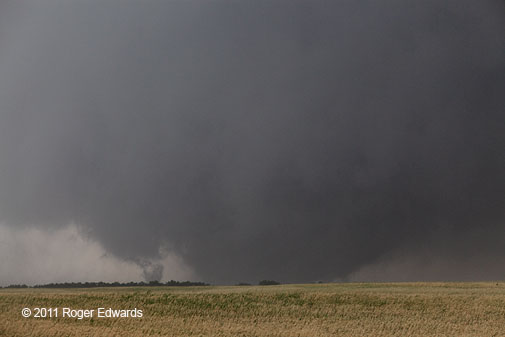 This morning (27th) – I took the time to drive and photograph some of the tree damage that occurred near where the tornado was located in his picture: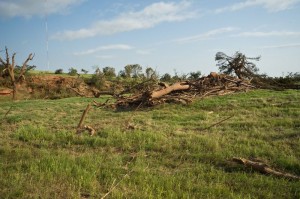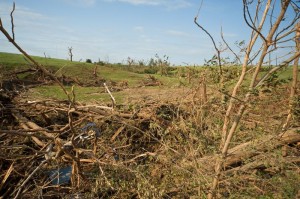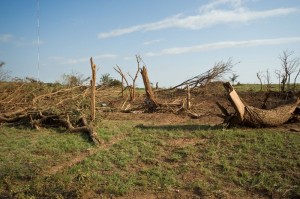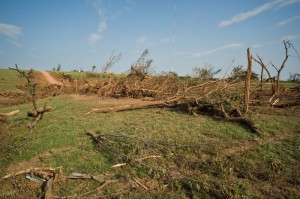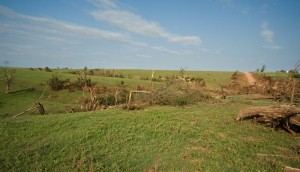 Google Map with paths of May 3, 1999 and May 24, 2011 tornadoes where they crossed Highway 3: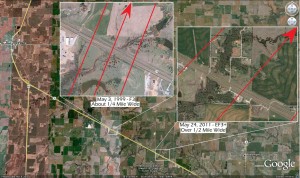 It was disappointing to see the number of fatalities (nine as of this writing) – but I can't help but think that not only could it have been worse here – it would have been worse in other areas of the country.
People that normally don't let the weather bother them have told me that by early afternoon, they were scared of what might happen.  For once, I'm glad they were.  It had probably been about 20 years since I have seen a setup look so dangerous, so far in advance.  If getting people scared was what it took to get them to take action in advance – good enough.  If I ever see a setup like that again, I'll do my best to scare them into reacting again.
On a positive note, the total rainfall for the month of May in Okarche has pushed to over six inches (6.02).  We are still a little below normal on the year, but not by that much.  The garden was pampered this evening and herbs and radishes were harvested.  Life goes on here in one of the best little places on earth to observe the weather…