First… another wonderful sunset on the 27th: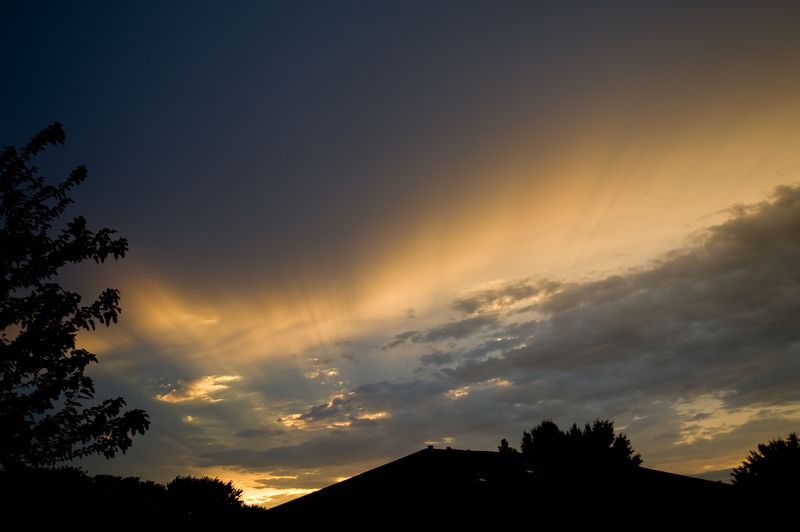 Rainfall was spotty over the last week, but some places did end up with a good amount.  Okarche was on the lower end of things coming in at 0.58 of an inch.  Northwest Oklahoma missed out the most: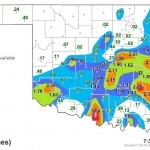 After a long stretch of warm weather, where 34 of 37 days saw above normal temperatures (May 22 – June 27) – we managed to put together a couple of very nice days.  The high temperature on the 28th and 29th stayed below 90 degrees in Okarche, and more important, dew point temperature fell to as low as 50 degrees.
Light winds, dry air and mild temperatures made for a couple of incredible evenings.  We added some of the seasons first fireworks to the mix at the BBQ on the 28th:
The heat took its toll on the peas, beans and herbs, but otherwise the garden has been producing nicely:
Elsewhere… I don't usually post up work by others here, but Skip Talbot posted up some time lapse video of a Minnesota tornado event (June 17, 2010) that was amazing!  The video is over six minutes long, but well worth the time to check out: http://www.youtube.com/watch?v=raoJU-OevN0&feature=player_embedded
Finally… the first Hurricane of the Atlantic 2010 season is Alex.  With a pressure of 28.32 inches and 80 M.P.H. winds… the eye is now evident this morning about 187 Nautical Miles southeast of the Brownsville, Texas radar site: