The wild summer continues!  A front moved into Oklahoma on Wednesday the 26th and provided the focus for yet more thunderstorm activity.  With high to extreme instability – it didn't take long for some of the storms to become severe.  Some large hail was reported… however, strong and damaging winds were the most common form of severe weather.  I first targeted storms near Watonga – but they weakened shortly after my 30 minute drive into Blaine County.  Soon after, intense convection began forming just to my southeast in southwest Kingfisher County.  At 6:10 p.m… I watched a landspout tornado form just east of the Blaine/Kingfisher County line near Altona.  Landspouts can resemble tornadoes but are usually weak, form in environments with generally weak winds and strong instability – and are not usually associated with a pre-existing meso-cyclone.  The event lasted about 11 minutes: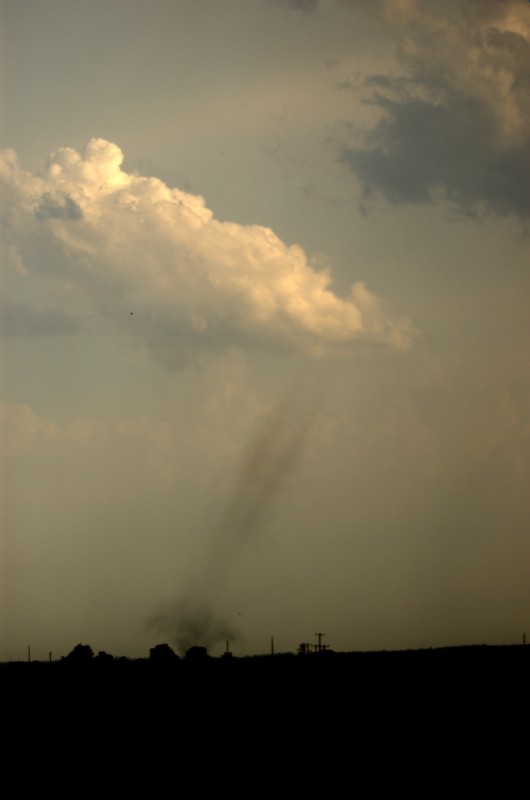 The storm that produced the spout rapidly intensified and produced damaging winds as it moved into Canadian County.  There was also likely some large hail given the radar signature – but I didn't get to sample any of that.
Later, I was treated to a beautiful sunset about 5 miles southeast of Okarche.  Shortly after sunset… new storms began producing impressive lightning to my west and southwest.  I was able to grab a few shots with some sunset light still in the picture.
Another 1.09 inches of rain has brought the August total to 8.60 inches.  It doesn't look like this will be the wettest August on record… but it has sure been one to remember.