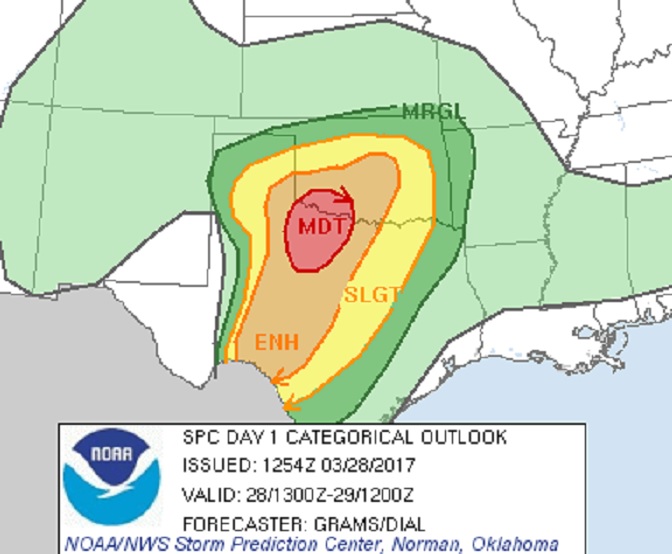 …Tornado risk highest over southwest Oklahoma…
Satellite loops this morning show a powerful storm system moving across Arizona and New Mexico.  Strong lifting associated with this storm will be spreading over the Southern Plains this afternoon and evening.
The surface weather map shows a warm front extending west to east across Texas, from just north of Abilene to just south of Dallas.  Very moist air resides south of the front.  This boundary should lift northward to at least the Red River this afternoon, and may lie across southern Oklahoma by late afternoon or early evening.
Thunderstorms are expected to form in a strong warm air advection regime across western Oklahoma during the morning hours.  This activity will spread north and northeast through the afternoon.  Some potential exists for these storms to produce marginally severe hail.
By mid-afternoon, more vigorous thunderstorm activity is expected to form along and either side of the warm front over northwest Texas and southwest Oklahoma.  The atmosphere in this region will be quite moist and unstable, and forecast wind profiles show large amounts of low and deep layer shear, especially near the front.  Storms forming here will have the potential to rapidly attain supercell characteristics with all severe weather hazards possible.  A strong tornado or two cannot be ruled out.
As thunderstorms grow upscale in coverage by evening / spreading into central and eastern Oklahoma, the main threat will transition to wind damage and hail.  While the concern for tornadoes will be highest across southwest Oklahoma, the tornado risk in Oklahoma City is not zero.
In addition to the severe weather risk, torrential rainfall from repeated storms is likely to cause some localized areas of flooding.
People across the state / especially southwest and south central Oklahoma / should review safety rules and be prepared to act should warnings be issued.