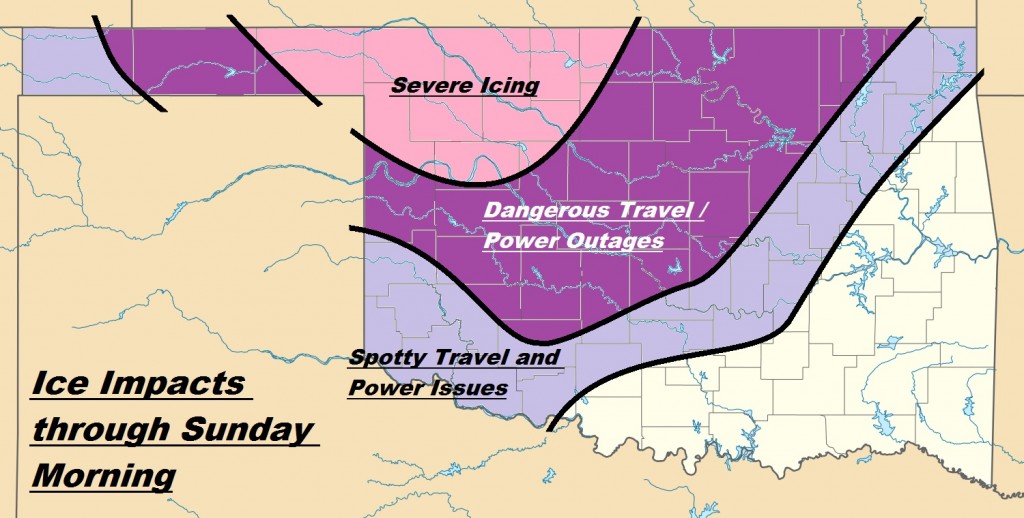 * Major ice storm possible over northwest Oklahoma
* Significant icing possible across the Oklahoma City metro
While the general forecast reasoning hasn't changed much, there are some details which continue to become clearer.  Freezing temperatures are now expected in and around Oklahoma City for the entire day on Friday.  Precipitation is expected to develop over the next six hours across southern Oklahoma.  This will be spreading northward through Friday afternoon.  Freezing rain is likely to result in some significant travel and power issues across an area from Anadarko and Chickasha – northeastward across the metro area – to Stillwater, Pawnee, Pawhuska and Bartlesville.   The heaviest of this precipitation should be coming to an end by late Friday afternoon, but light precipitation with further accumulation will be possible into Saturday.
From late Friday into Saturday morning, heavy freezing rain will develop over northwest Oklahoma and continue into Sunday morning.  It now appears that severe icing will be possible across the Arnett, Woodward, Buffalo, Fairview, and Alva areas.  Total freezing rain could approach one inch resulting in extreme damage to the power grid.
All the standard advisories apply.  People across the northwest 2/3′s of Oklahoma should wrap up preparations soon.  Travel will be discouraged and a large number of people / especially across northwest Oklahoma / are likely to be without power for an extended period of time.