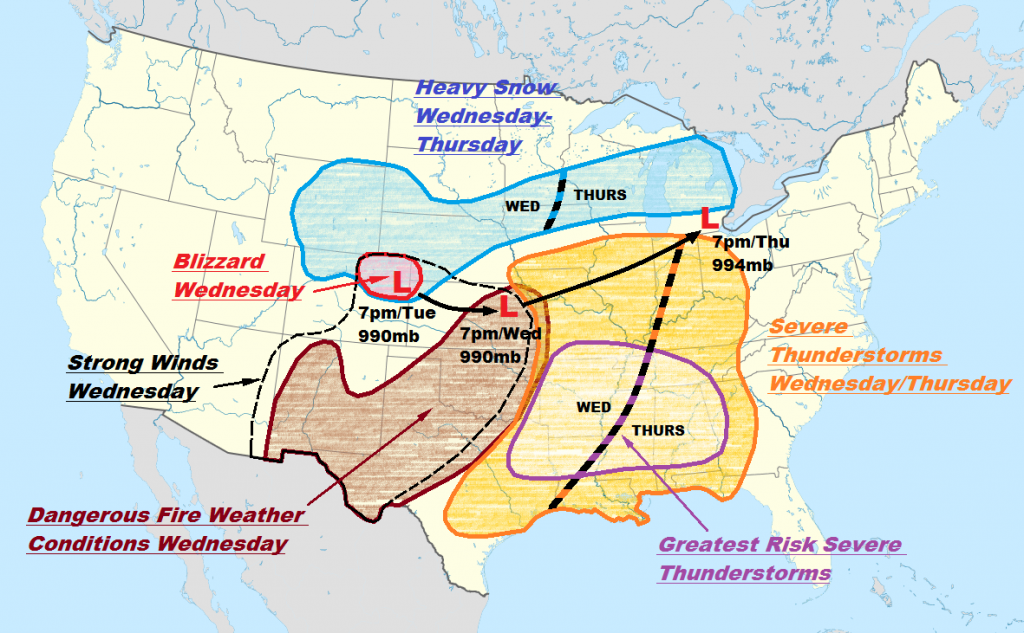 A powerful storm system is now affecting the middle part of the country and this storm will be bringing a wide variety of hazardous weather conditions to the Central and Eastern U.S. through Thursday.
Heavy snow is beginning to fall across portions of Colorado and Wyoming this Tuesday evening.  As deep low pressure moves across the Plains on Wednesday, heavy snow will spread northeastward across portions of Nebraska, southern South Dakota, northwest Iowa and southwest Minnesota.  Snow will continue on Thursday into Wisconsin and Michigan.  Behind the low pressure area on Wednesday, strong north winds will result in blizzard conditions over east central and northeast Colorado, and adjacent areas of far northwest Kansas and far southwest Nebraska.
Very strong and dry winds will result in extreme fire danger from New Mexico to eastern Kansas on Wednesday.
By Wednesday evening, severe thunderstorms will develop from Missouri to eastern Texas.  The primary risk will be damaging winds, but some large hail and an isolated tornado will also be possible.  The risk will continue east of the Mississippi Valley on Thursday.
100 AM CDT WED MAR 23, 2016:
A fire that started in western Woods County burned intense enough to be detected by infrared satellite imagery for several hours Tuesday evening and early Wednesday morning.  The fire moved quickly north, crossing the border into Comanche County, Kansas.  Detection's such as this will likely become common over the next 24 hours.  While difficult to tell how wide the fire was, radar also detected the plume and suggested it spread northward for about 30 miles.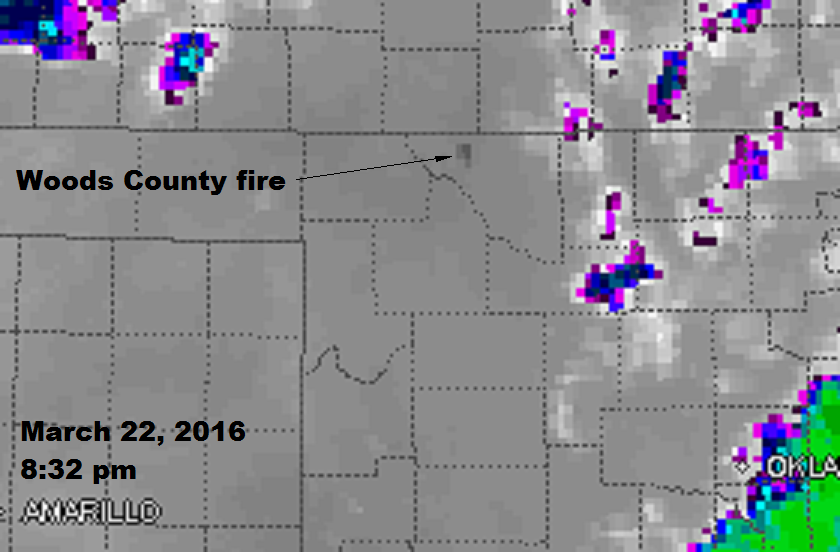 805 AM CDT WED MAR 23, 2016:
Widespread snow is breaking out this morning from South Dakota to southern and eastern Wyoming and south along the foothills through the Denver Metro.  Winds will be increasing soon and blizzard conditions will begin to develop through the morning and early afternoon – especially across northeast Colorado and southeast Wyoming.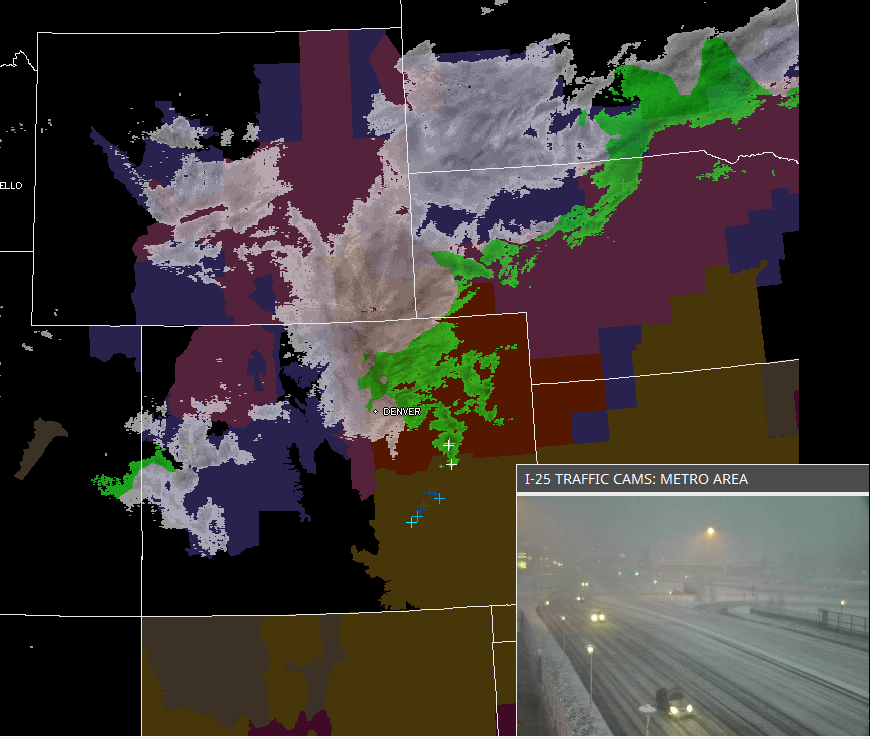 1219 PM CDT WED MAR 23, 2016:
The fire that burned from Woods County, Oklahoma into Comanche County, Kansas, Tuesday evening into Wednesday morning was not completely extinguished on the eastern fire line today.  The area is being impacted now by strong southwest winds and much drier air resulting in numerous areas of active burning occurring in Woods County and now Barber County, Kansas.  Several smoke plumes are evident on radar, and satellite imagery shows a dark burn scar from the burning which occurred over the last 24 hours.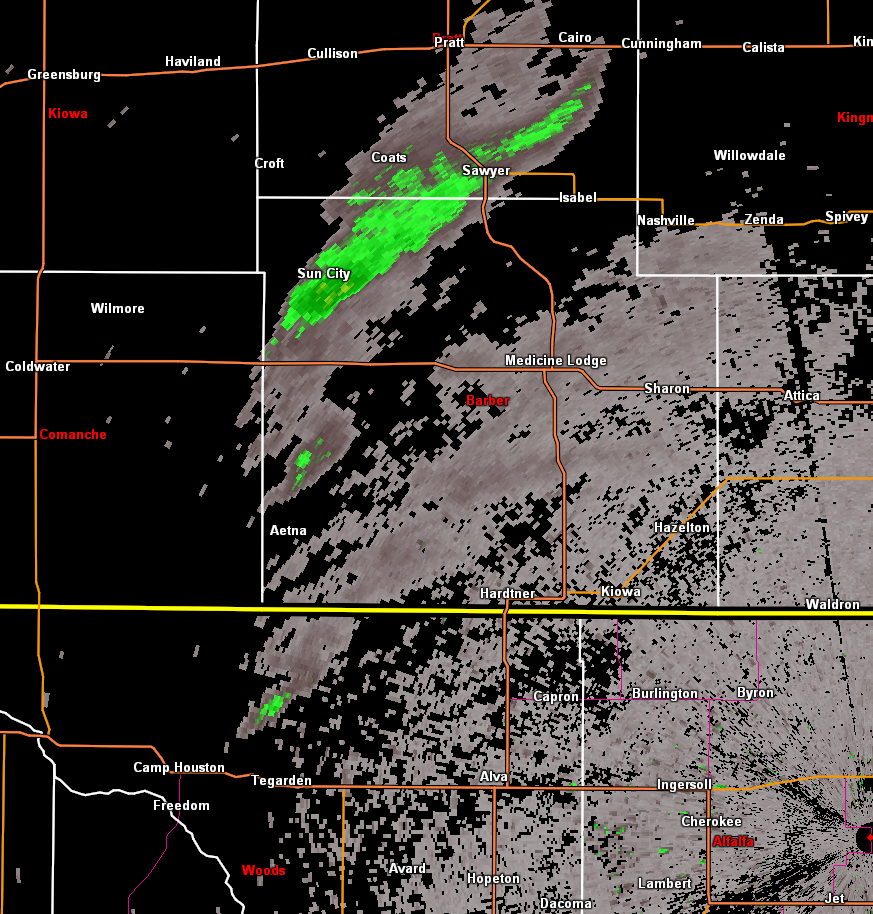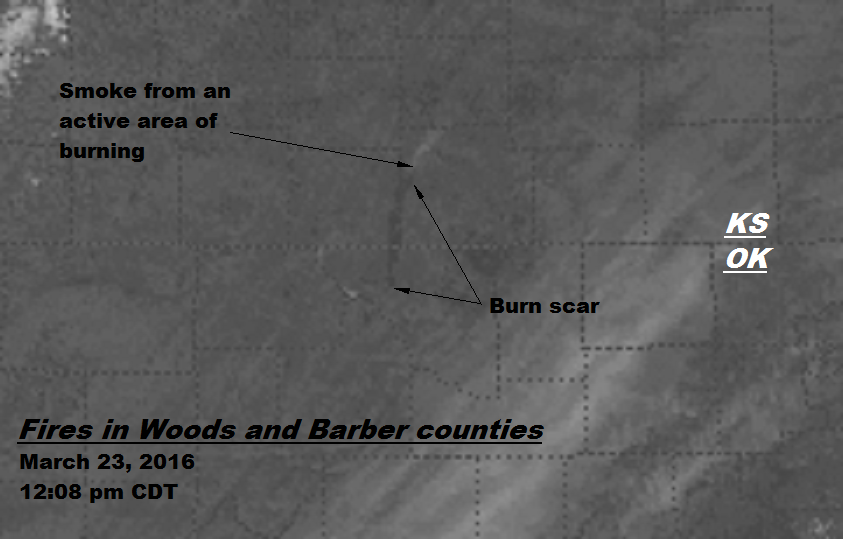 1235 PM CDT WED MAR 23, 2016:
Severe thunderstorm development later this afternoon and evening is expected to be a little more aggressive than earlier anticipated.  The risk is also a little farther west covering more of eastern Oklahoma.  There are two areas where the tornado threat is a little higher.  The first extends from southern Missouri to northeast Texas.  The second is a small area centered over far northwest Missouri and extending into adjacent areas of Iowa and Nebraska.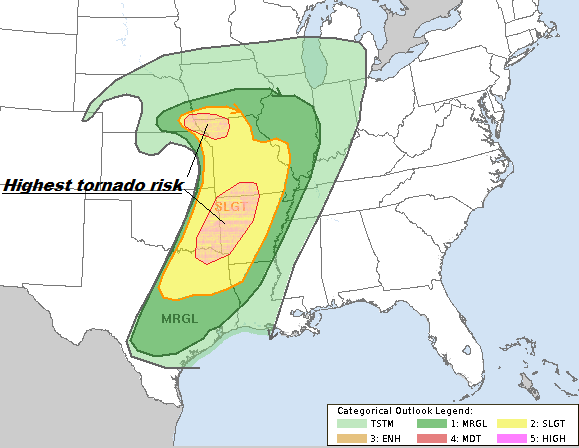 118 PM CDT WED MAR 23, 2016:
Many photos are being posted of the heavy snow in the Denver and surrounding areas.  Winds have been gusting to 50 mph and blizzard conditions are bringing travel to a crawl.  As much as 16 inches of snow has fallen in some areas.  80,000 customers are reported to have lost power and over half of the flights (700+) out of Denver International have been cancelled so far.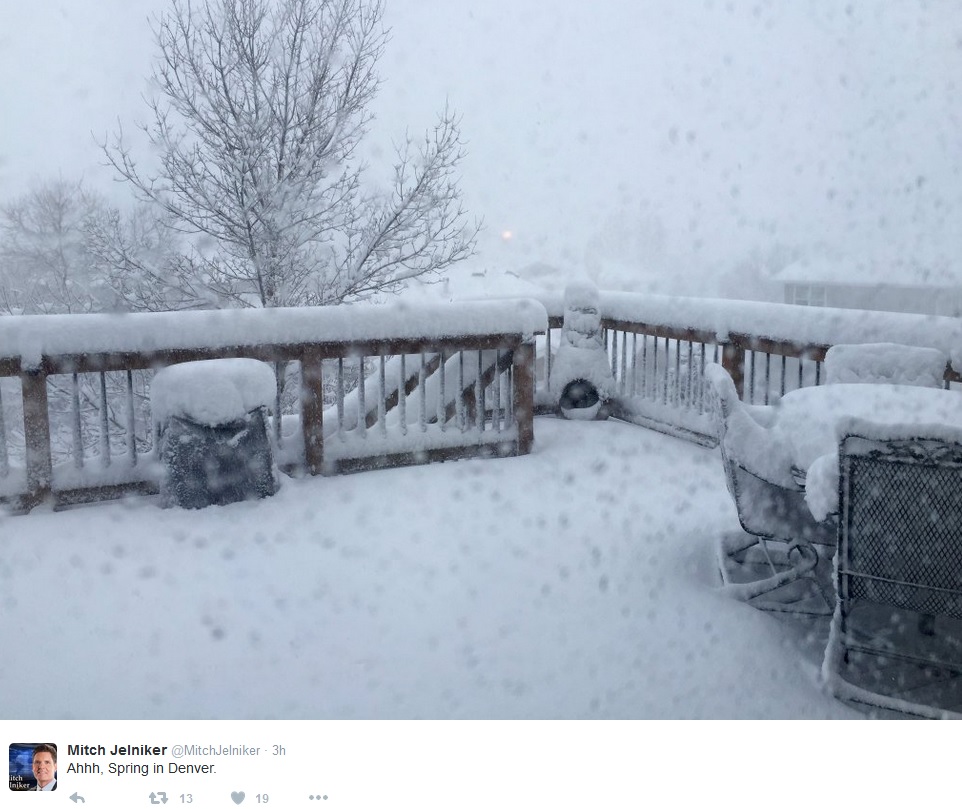 352 PM CDT WED MAR 23, 2016:
Amazing satellite imagery this afternoon.  On this image, you can see thunderstorms developing over southeast Nebraska – and a Tornado Watch is now in effect for portions of Kansas/Nebraska/Iowa/Missouri.  Blizzard conditions continue from the Colorado foothills eastward into far southwest Nebraska and far northwest Kansas.
Blowing dust is becoming evident across southwest Texas.  Fires can be seen in the Texas Panhandle.  Numerous fires with intense burning are occurring in Woods County, Oklahoma and Barber/Comanche counties in Kansas.  Smoke from these fires has reached all the way to the Nebraska border.
Winds across western Oklahoma and the Panhandle have been gusting to over 60 mph.
We are entering a period of extreme fire danger in the Oklahoma City area as humidity has now dropped to at or below 15 percent and winds continue to increase.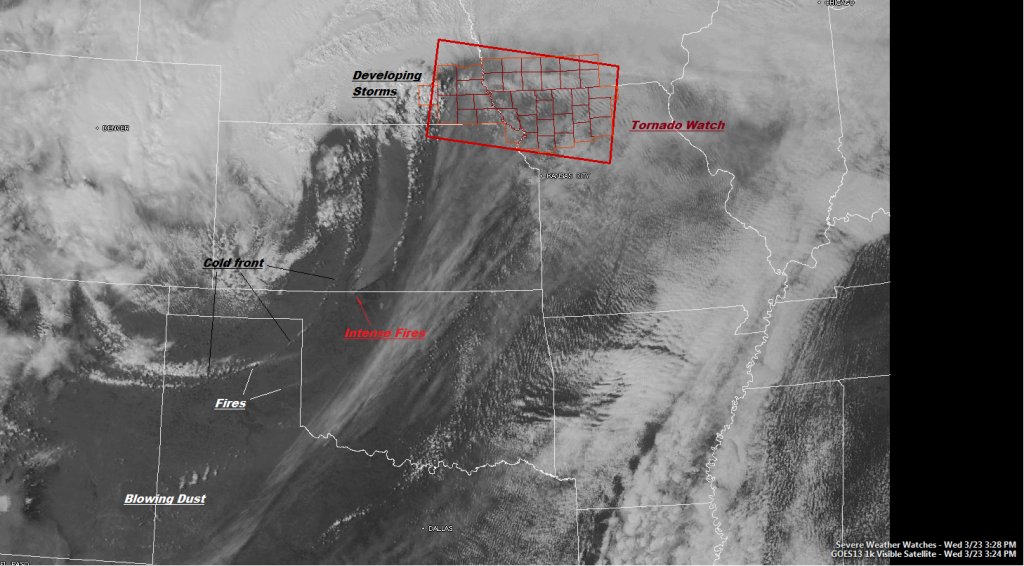 441 PM CDT WED MAR 23, 2016:
Latest guidance from the high resolution HRRR model (below left) has been strongly suggestive that supercell storms will form over eastern Oklahoma during the next 1 to 2 hours.  Radar is now showing first echoes east of Ada (below right).

457 PM CDT WED MAR 23, 2016:
A dangerously wide and fast moving wildfire is now approaching the north and west sides of Pampa, Texas.  Also – a large fire has developed in northeast Oklahoma City near I-44 and I-35.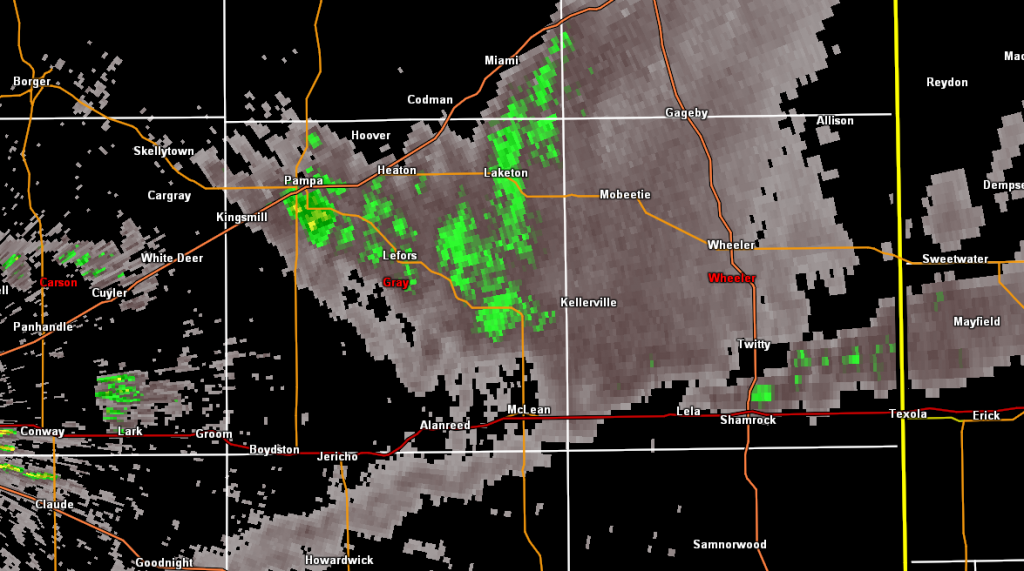 527 PM CDT WED MAR 23, 2016:
Fire "hot spots" detected by IR satellite imagery: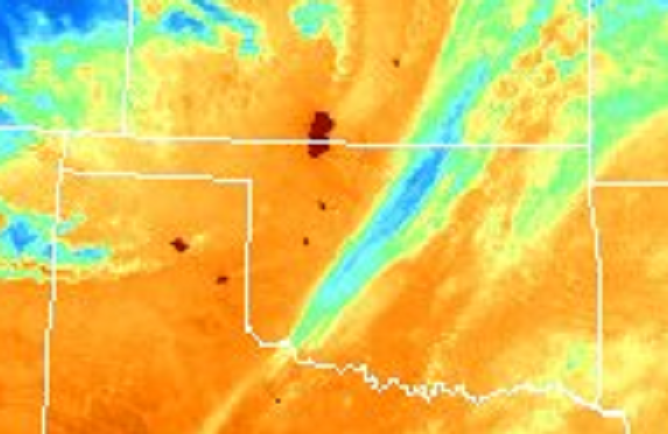 900 PM CDT WED MAR 23, 2016:
There have been a couple of storms with Tornado Warning's this evening.  This storm may have produced a tornado just southwest of Haslet, Texas around 9 pm.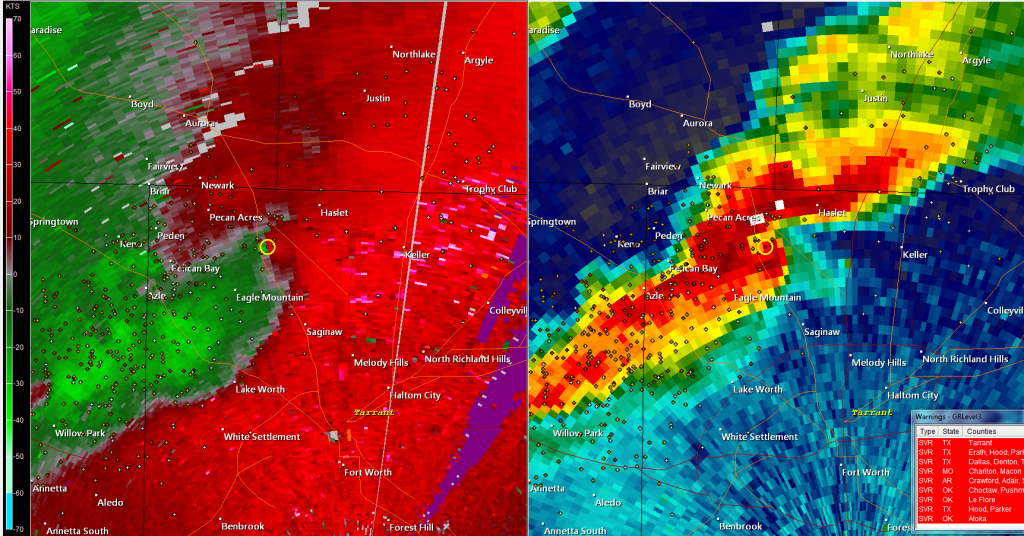 One of the tornado warned storms as it approached Talihina, Oklahoma just before 9 pm: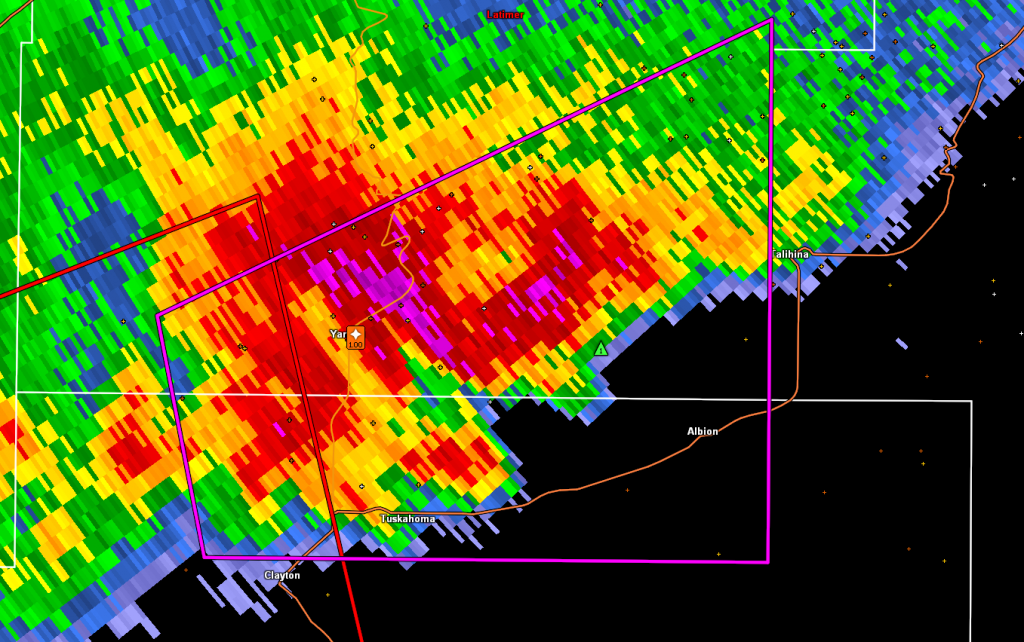 948 PM CDT WED MAR 23, 2016:
Severe thunderstorms that continue to pose a risk of large hail and damaging winds are scattered from Missouri to Texas this evening: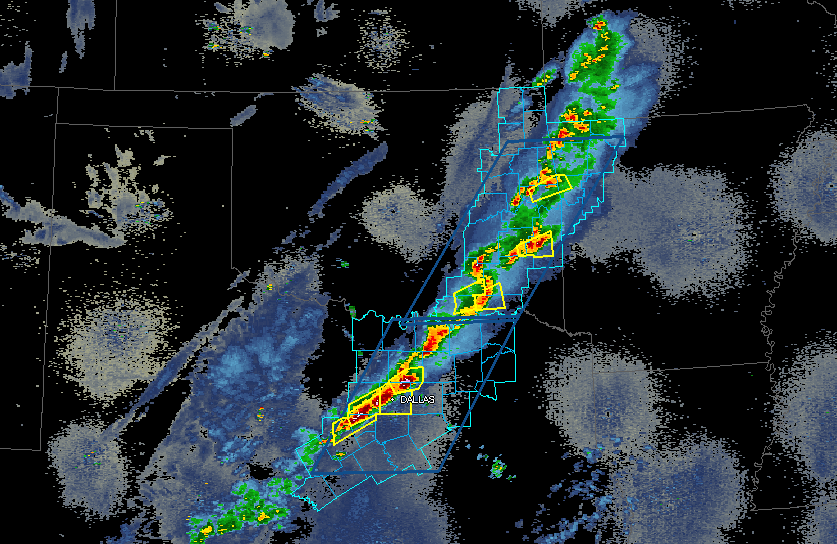 With regard to fire, the only remaining "hot spots" on IR satellite imagery is associated with the fires that continue to burn in Woods County, Oklahoma and Barber County, Kansas.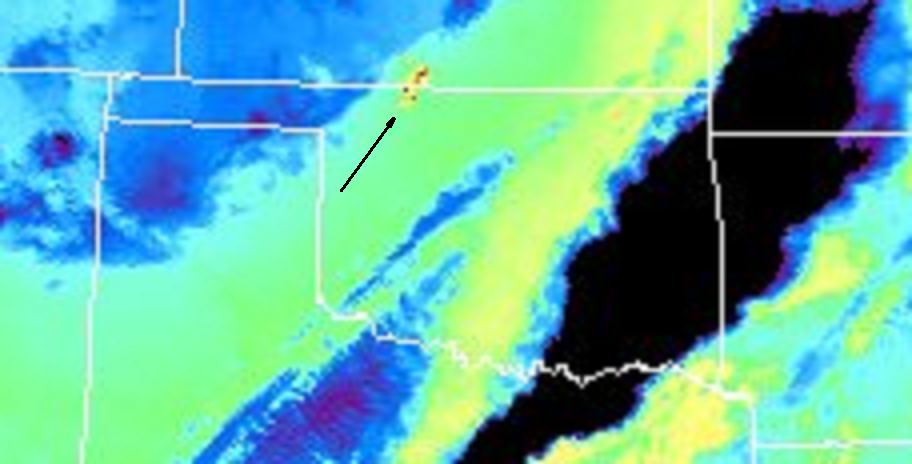 Most of the highest wind gusts in Oklahoma today were across western Oklahoma.  The highest observed wind today was from Burns Flat where 69 mph was reached.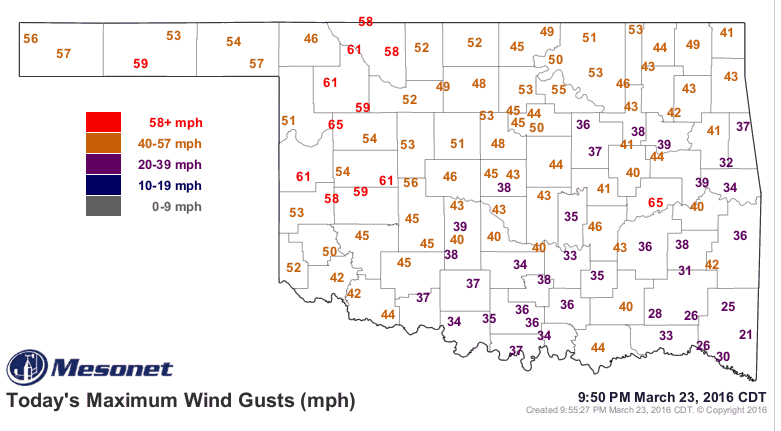 Some tremendous snowfall occurred today in Colorado.  Near Pinecliffe, 31.6 inches of snow fell in 18 hours!
1009 PM CDT WED MAR 23, 2016:
A tornado has recently been confirmed with this circulation over southwest Washington County, Arkansas – just to the east of Evansville which sits near the Oklahoma border.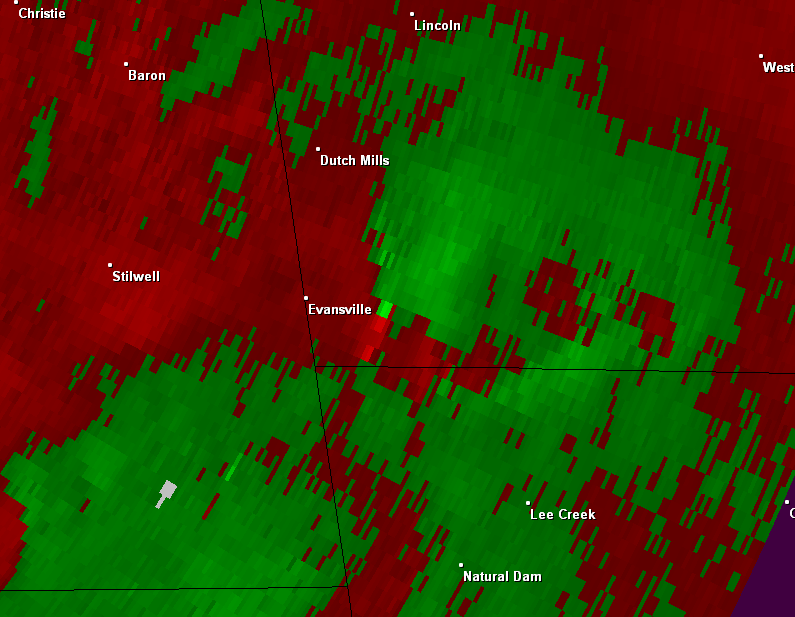 1029 PM CDT WED MAR 23, 2016:
Reported tornado approaching Fayetteville, Arkansas: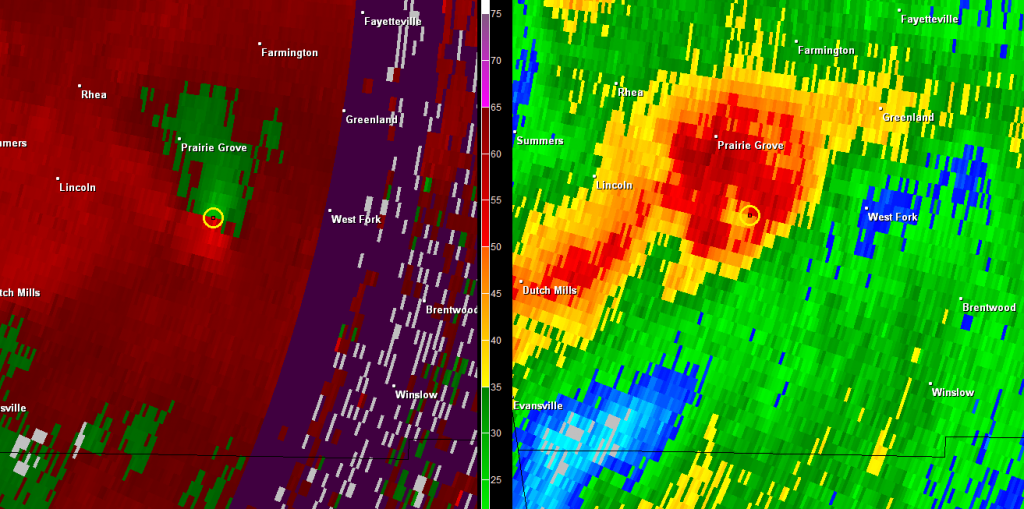 1114 PM CDT WED MAR 23, 2016:
Supercells have managed to remain discrete across northwest Arkansas and southwest Missouri and have occasionally posed a tornado threat.  A Tornado Debris Signature is now being observed with a storm approaching Cape Fair, Missouri: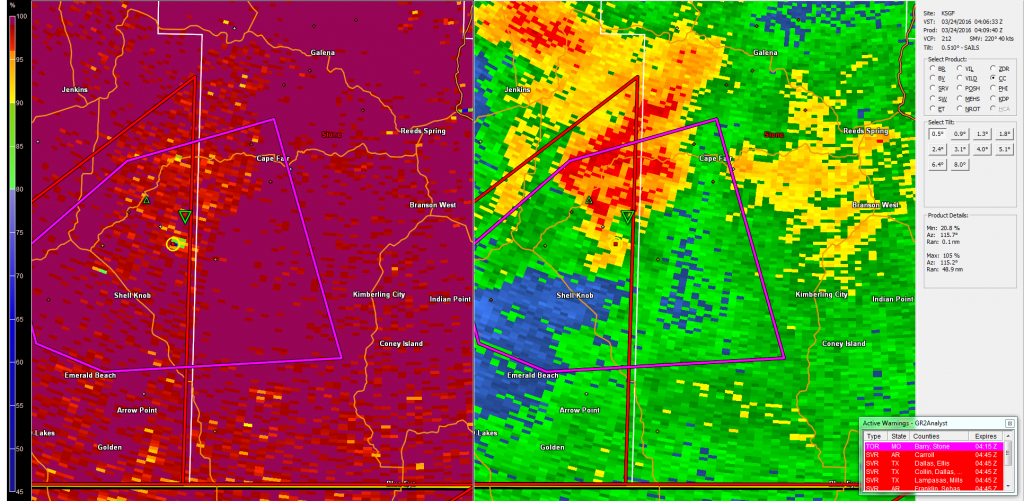 1254 AM CDT THU MAR 24, 2016:
Snow is spreading northeastward as deep low pressure moves toward the Great Lakes.  Winds are now forecast to be a little stronger and a Blizzard Warning has been issued for portions of eastern Wisconsin.  Latest high resolution model guidance paints a narrow band of snow overnight and Thursday morning where amounts may approach 10 inches in some areas.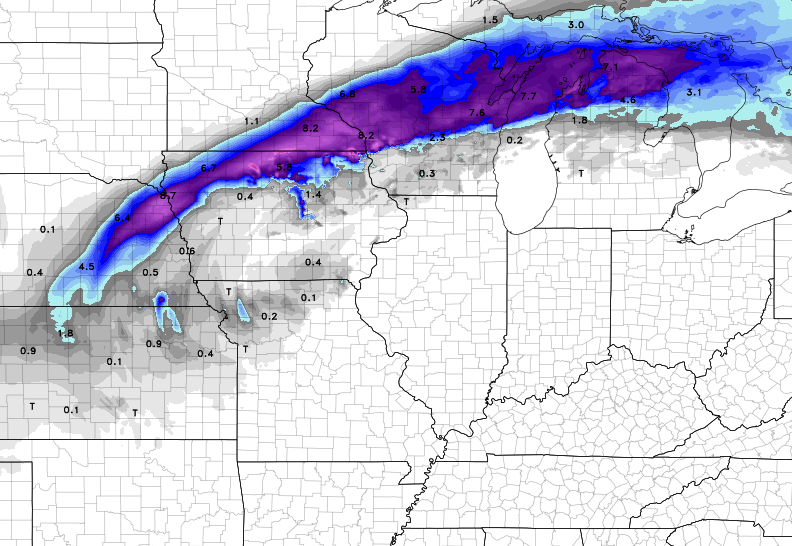 135 PM CDT THU MAR 24, 2016:
Morning visible satellite imagery showing the new snow cover from Colorado east northeastward.  Also, thunderstorms in Lake Charles, Louisiana produced a weak tornado on the east side of the city just after sunrise this morning.  Finally, fires continue to burn near the Kansas/Oklahoma border southwest of Medicine Lodge and northwest of Alva.  Winds today would be pushing any uncontrolled fire to the south southeast.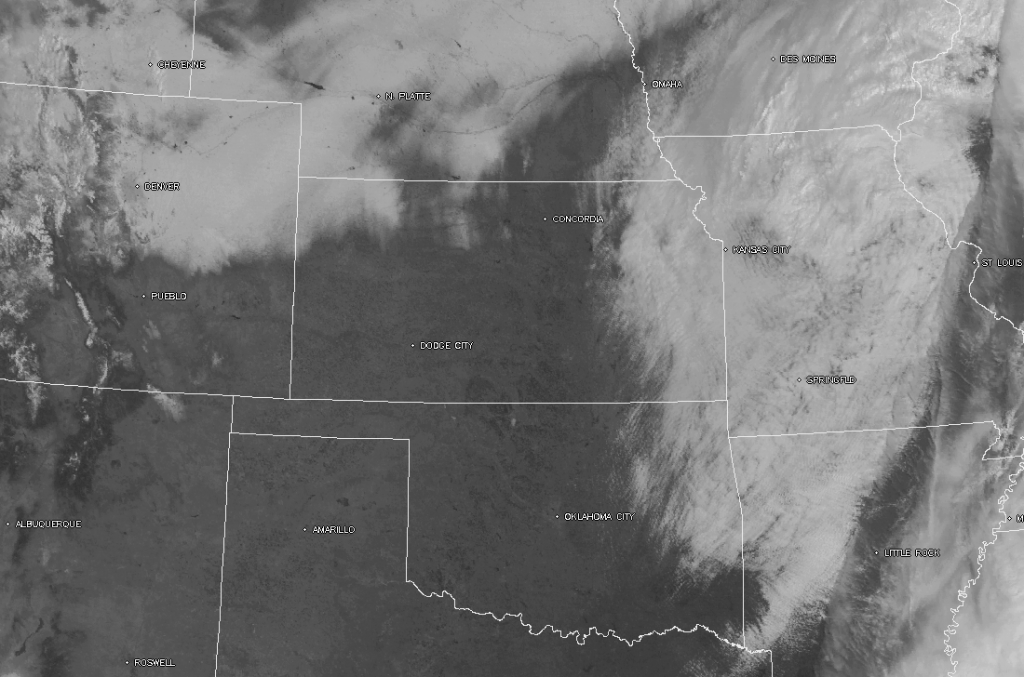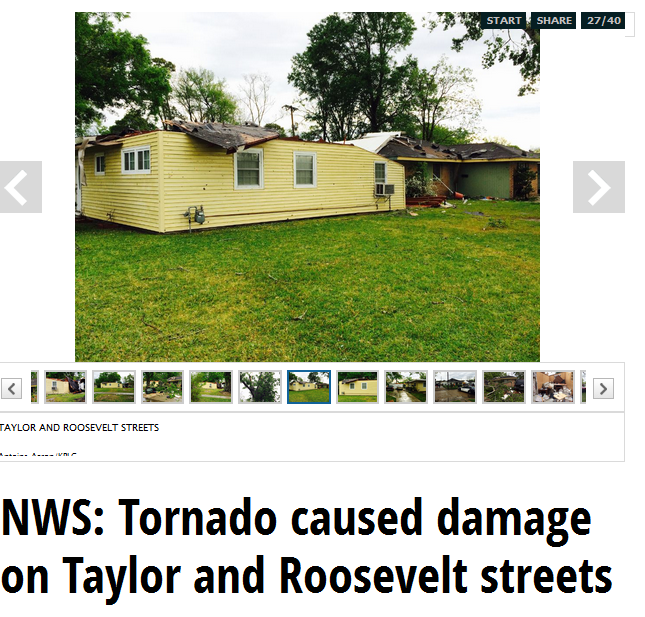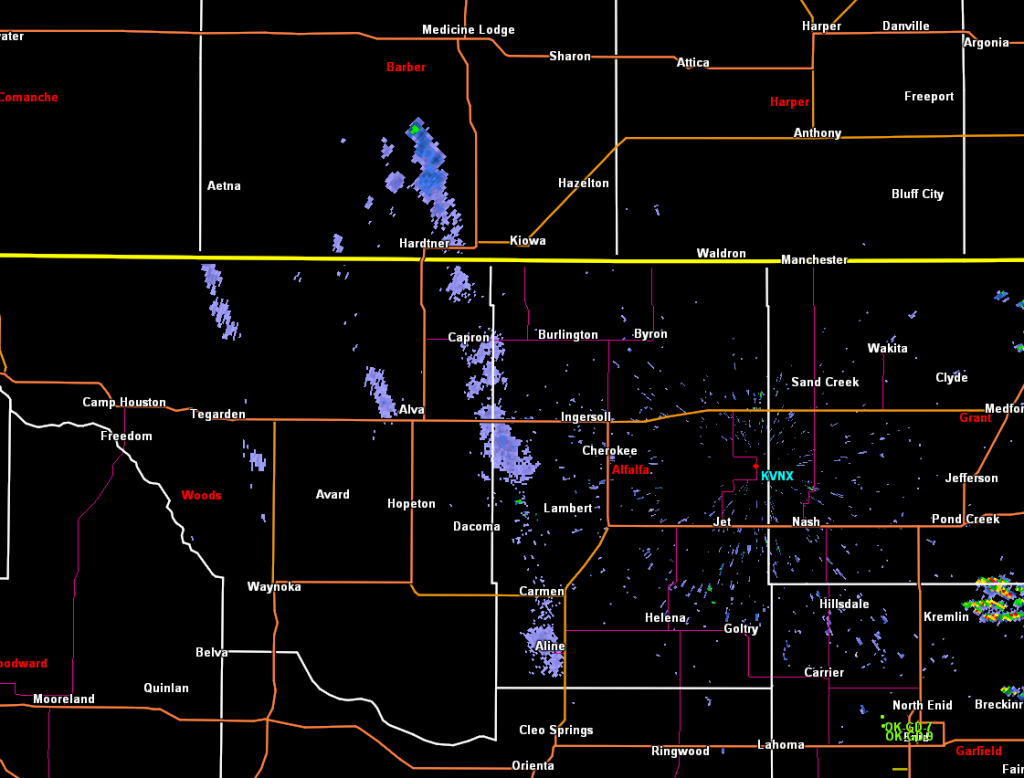 Snowfall totals starting to filter in.  In Colorado, the heaviest snowfall east of the mountains was centered between Denver and Boulder where 18 to 21 inch amounts were common: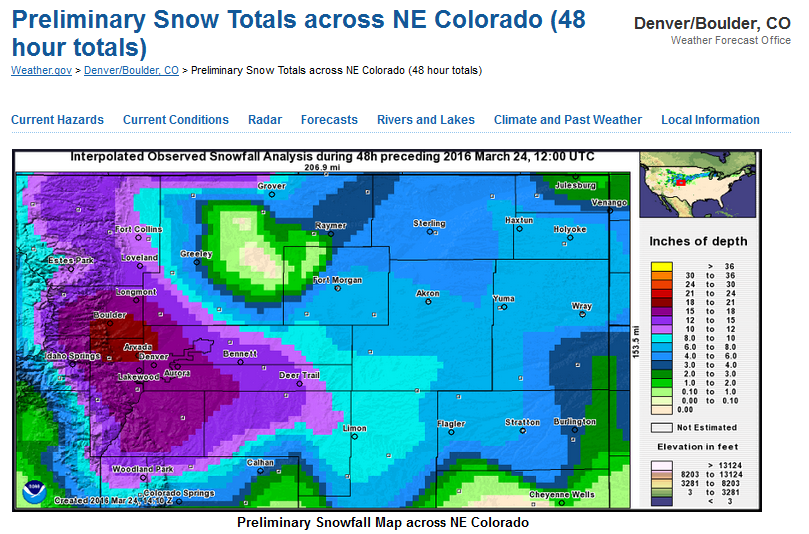 252 PM CDT THU MAR 24, 2016:
Mesocyclones embedded in a squall line have been occasionally strong enough early this afternoon to produce a tornado threat across southern Alabama and the Florida Panhandle.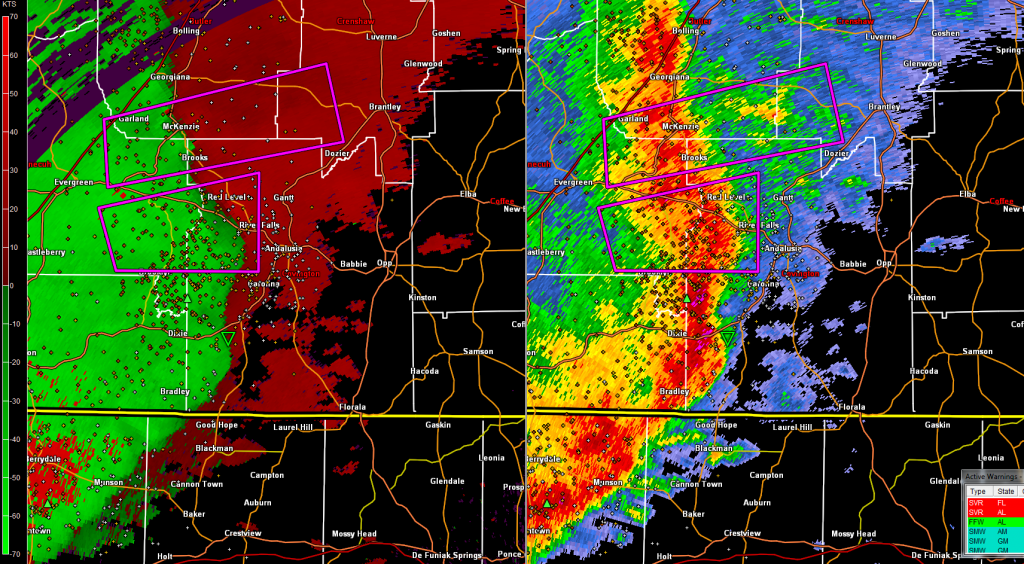 Snow and wind reports from Nebraska: