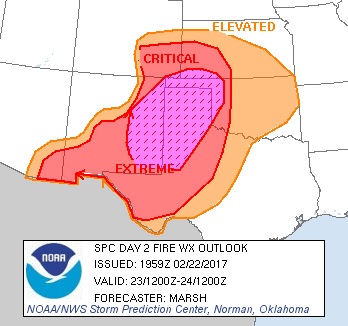 Fire danger will become extreme across western Oklahoma and the Panhandle on Thursday afternoon (23rd).  This is part of a larger area of concern that extends from southwest Kansas to eastern New Mexico.
Deep low pressure will be organizing Thursday morning over southeast Colorado.  This low will track eastward across Kansas during the afternoon, while the associated dryline makes its way across western Oklahoma.  To the west of the dryline, the wind will be gusting out of the west southwest at speeds of over 40 mph.  Humidity values will be dropping to less than 15 percent.  The combination of low humidity, strong wind, and dormant vegetation will result in very high to extreme levels of fire danger.
While the dryline is likely to make it to central sections of the state, humidity values won't fall quite as far thanks to recent heavy rainfall.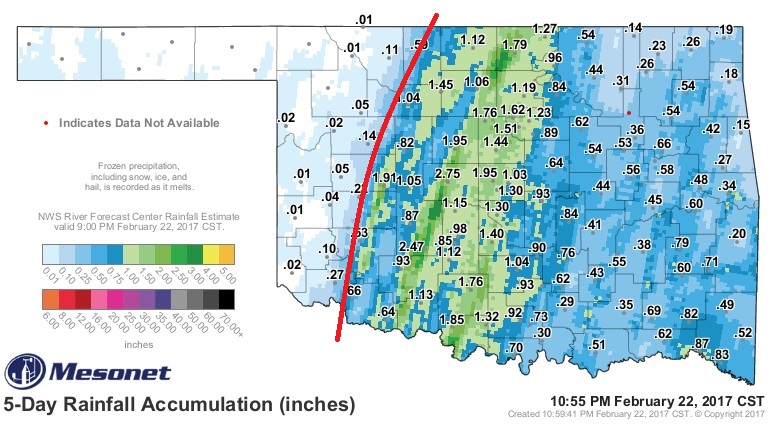 The area that saw the greatest rainfall was generally east of a line from Altus to Clinton to Cherokee.  This doesn't mean that there won't be at least elevated fire weather concerns where the heavy rain fell.  It has been over 72 hours since the rainfall and dormant vegetation has had a chance to dry out.  Muddy conditions will also create problems for firefighting apparatus attempting to gain access to fields.  This delay can result in further fire spread.
By evening, a strong cold front will begin to move quickly southeastward from Kansas.  Behind the front, the wind will shift to the northwest between 30 and 40 mph which could create problems for firefighters working at ongoing fires.