Wednesday, September 20, 2017 – 8 am:
…Maria located just southwest of San Juan…
…Maximum sustained winds 145 mph with a central minimum pressure of 927 mb…
…Many observed wind gusts in excess of 100 mph since landfall…
…Widespread reports of damage and requests for rescue across Puerto Rico…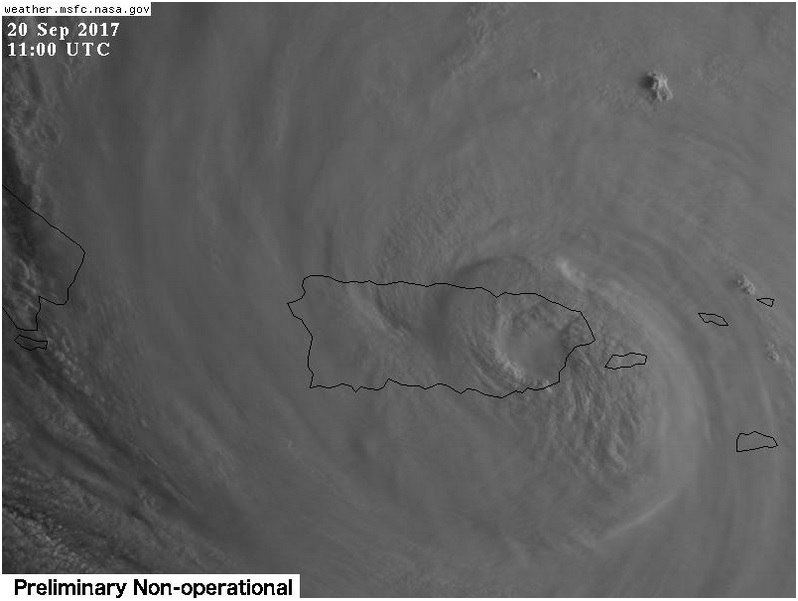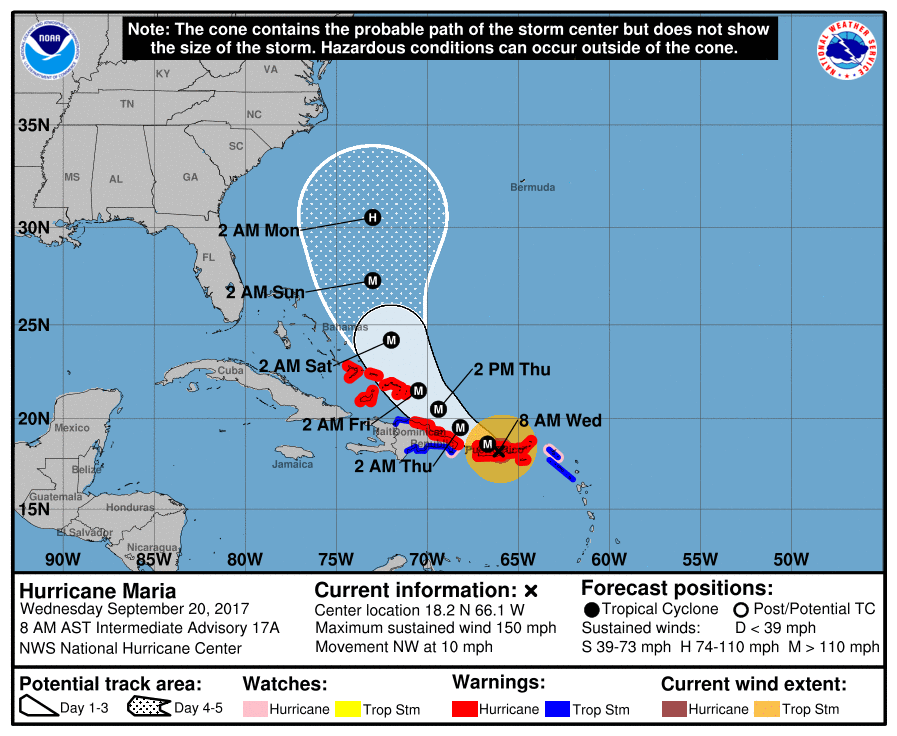 Maria has weakened some with land interaction.  Further weakening is likely over the next several days as upper level conditions become less favorable.  Regardless, Maria will be a large and strong hurricane for the next five days as it tracks northward – near and just east of the Bahamas.
Wednesday, September 20, 2017 – 1 am:
…First devestating effects to Puerto Rico will begin soon…
…Intense outer band with observed gusts to over 135 mph is located between 30 and 40 miles from the coast…
…Hurricane Maria will be catastrophic for Puerto Rico with major wind damage, life-threatening storm surge, life-threatening flooding and landslides, and tornadoes…
…Storm has weakened slightly but remains a Category 5 with maximum sustained winds of 165 mph and a minimum central pressure of 910 mb…
…Earlier lowest pressure is 10th lowest on record for Atlantic basin…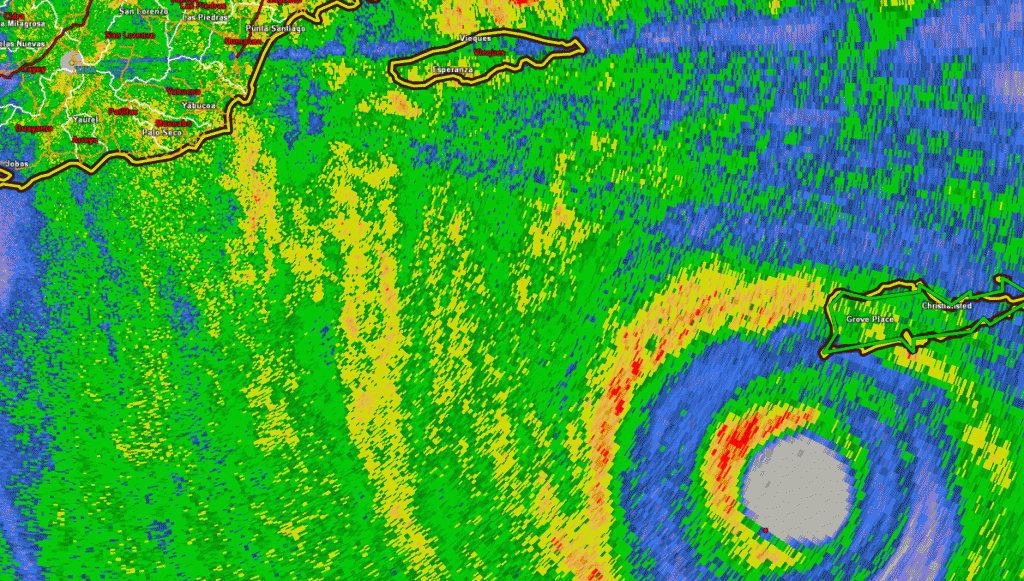 A worse case scenario appears to be unfolding for those in Puerto Rico.  Maria has the potential to be the worst hurricane to strike the island in almost 90 years.   Time for any preparation has just about run out and people now should begin to shelter in place above the forecast storm surge of up to 9 feet.  During the after the storm, be aware of rising water and landslides.  Prepare mentally for a very long duration rescue and restore period.  Many places still don't have power and running water because of Hurricane Irma.  Most won't see a restore of these services until well into next year.
Tuesday, September 19, 2017 – 10 pm:
…Edge of intense inner eyewall about 12 miles off the south shore of St Croix…
…Maria remains an extremely dangerous, Category 5 storm with maximum sustained winds of 175 mph and a minimum central pressure of 909 mb…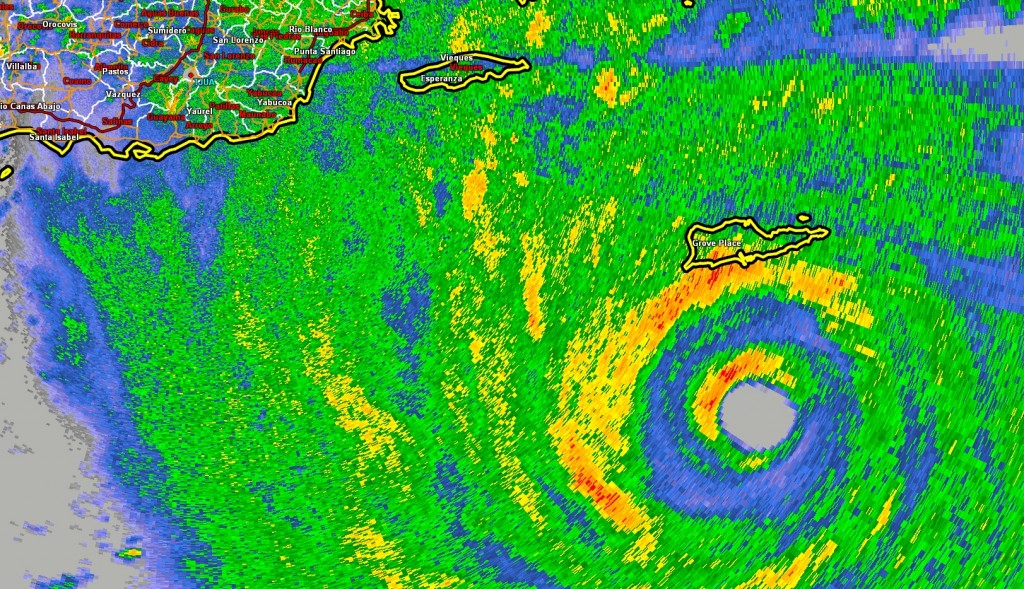 Winds on St Croix have been gusting to near 90 mph.  These are NOT associated with the intense inner eyewall.  Wind gusts in the inner core likely exceed 200 mph.  This is an extremely dangerous storm, capable of catastrophic damage.  The most intense part of the hurricane will skirt along the southern coast of St Croix over the next few hours.  Most of the island will see damaging winds, dangerous inland surge and flooding rainfall.
Maria is moving west northwest at around 10 mph.  This general motion is expected to continue through landfall on Puerto Rico.  On its expected course, the intense core will pass across southwestern portions of Vieques, and then strike Puerto Rico between Patillas and Punta Santiago.  People shouldn't focus on the exact center, as hurricane force winds and dangerous storm surge cover an area 120 miles wide.
In addition to wind and surge, flooding rainfall, landslides and tornadoes will be a significant threat across Puerto Rico.
Dangerous hurricane conditions will be possible over eastern and northern sections of the Dominican Republic from late Wednesday until late Thursday.
Maria could still be a major hurricane when it passes near or east of the Turks and Caicos from late Thursday through late Friday.
Tuesday, September 19, 2017 – 4 pm:
…Extremely dangerous Mari continues to move toward St Croix and Puerto Rico…
…Still Category 5… pressure has fallen to 916 mb and winds have increased to 165 mph…
…There will be a narrow path / about 50 miles across / where catestrophic damage occurs with landfall…
…Dangerous conditions of wind, storm surge, flooding rainfall, and landslides will occur well outside the path of the center of the storm…
Tropical expert, David Gold, offered this historical information:
Barring unpredictable wobbles, the eye wall looks increasingly likely to make a direct strike on Puerto Rico's southeast coast not far from Humacao or Palmas Del Mar. Since 1928, the last time that a severe hurricane hit PR (the 1928 storm is recorded as a Cat 5 with 140kt winds at landfall), there have been two other direct landfalls: one in 1932 (100 kt) and Hugo in 1989 (110kt) – the only major hurricane to hit PR in the modern era. If landfall does indeed occur, Maria will be by far and away the worst hurricane disaster in PR's history. An eye wall replacement cycle is more likely to occur than not before landfall but even if this happens, it is unlikely that Maria will weaken significantly enough to avert disaster.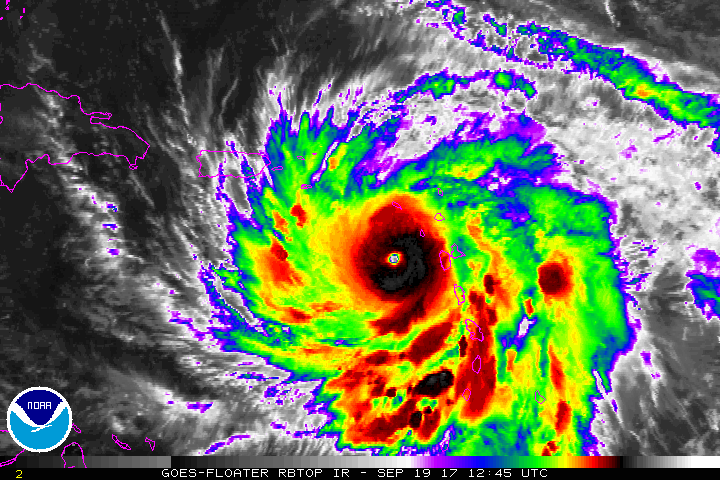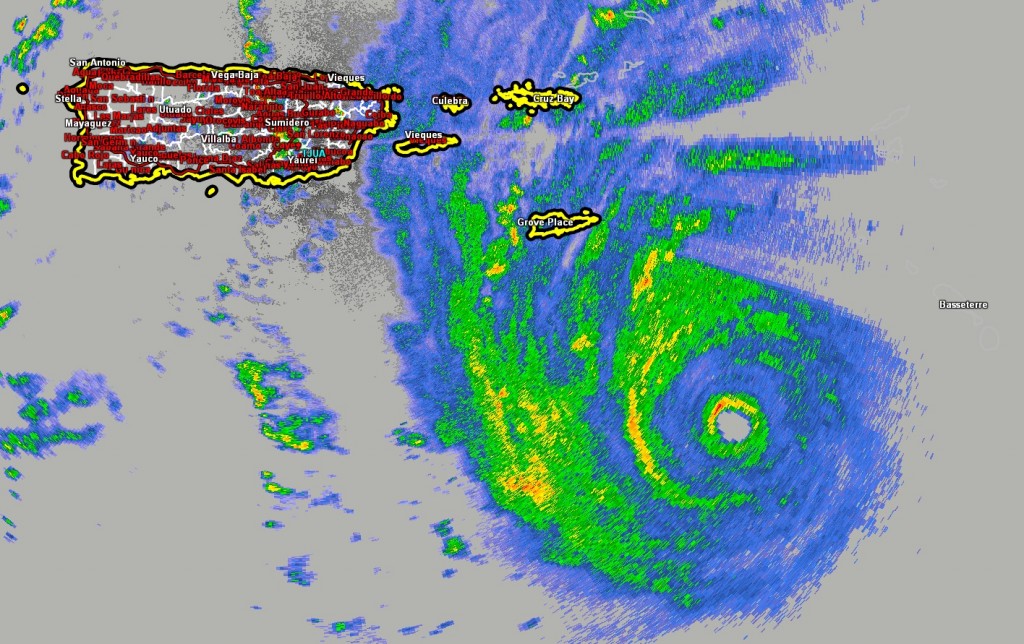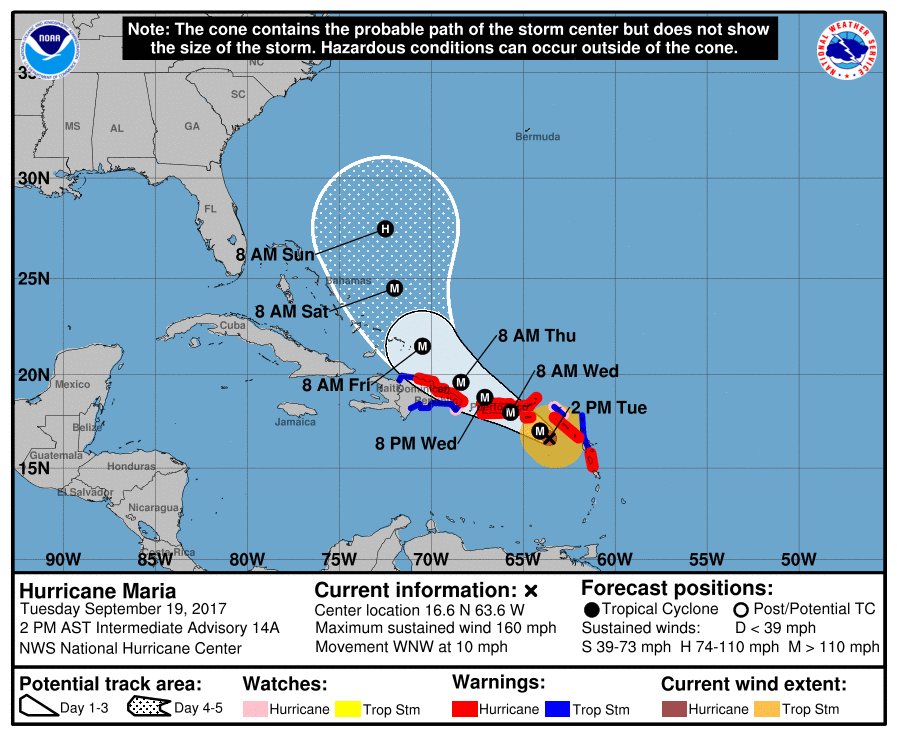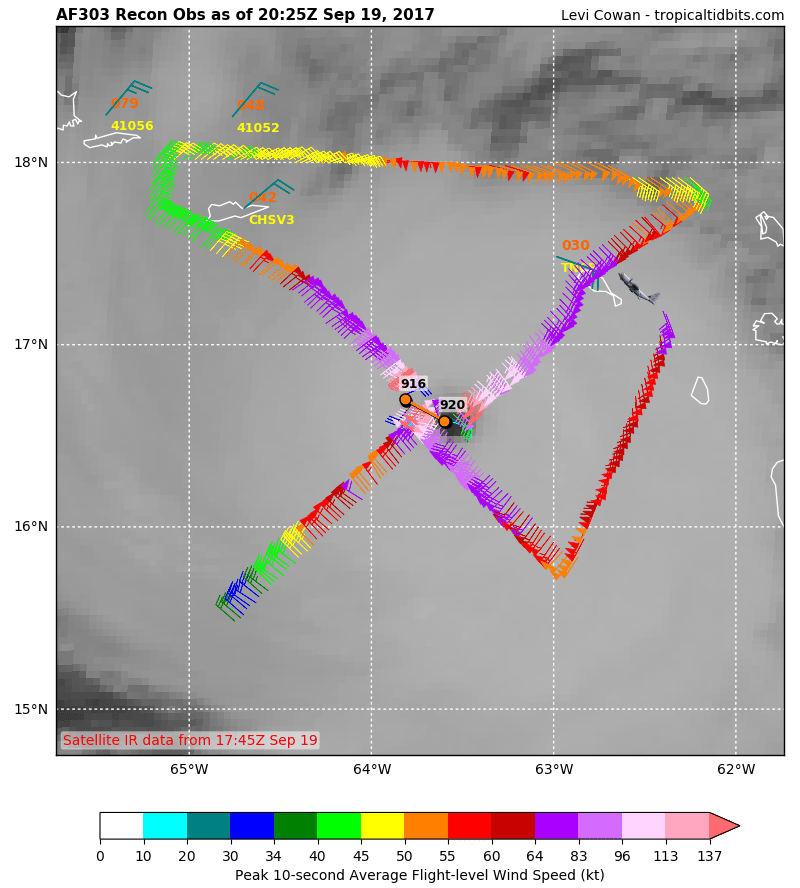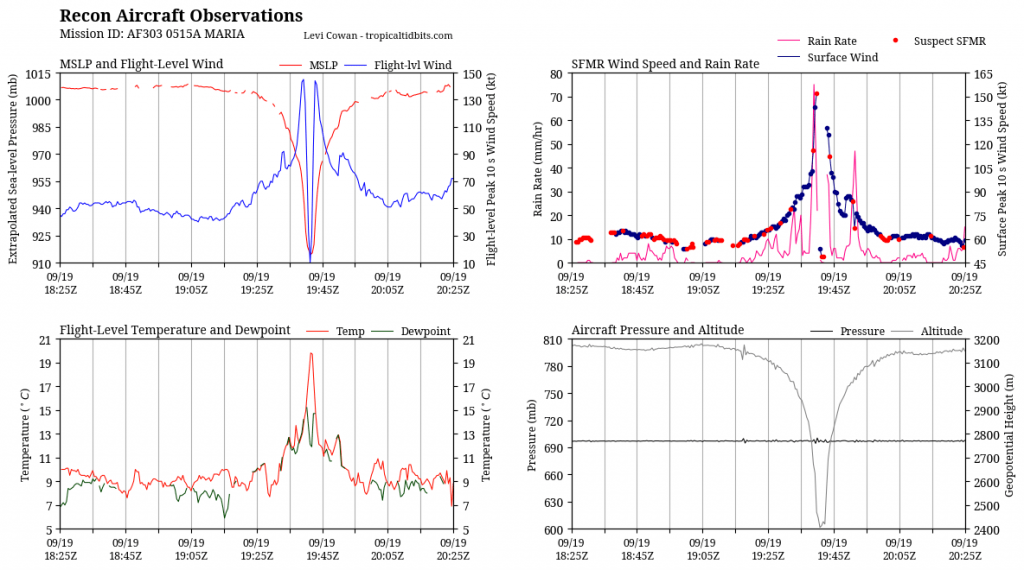 Tuesday, September 19, 2017 – 7 am:
…"Extreme damage and deaths" being reported from Dominica after direct hit by Category 5, Maria…
…After brief and slight weakening, storm is once again Category 5 with maximum sustained winds of 160 mph…
…St Croix, Vieques, and Puerto Rico next to see direct impact from major hurricane…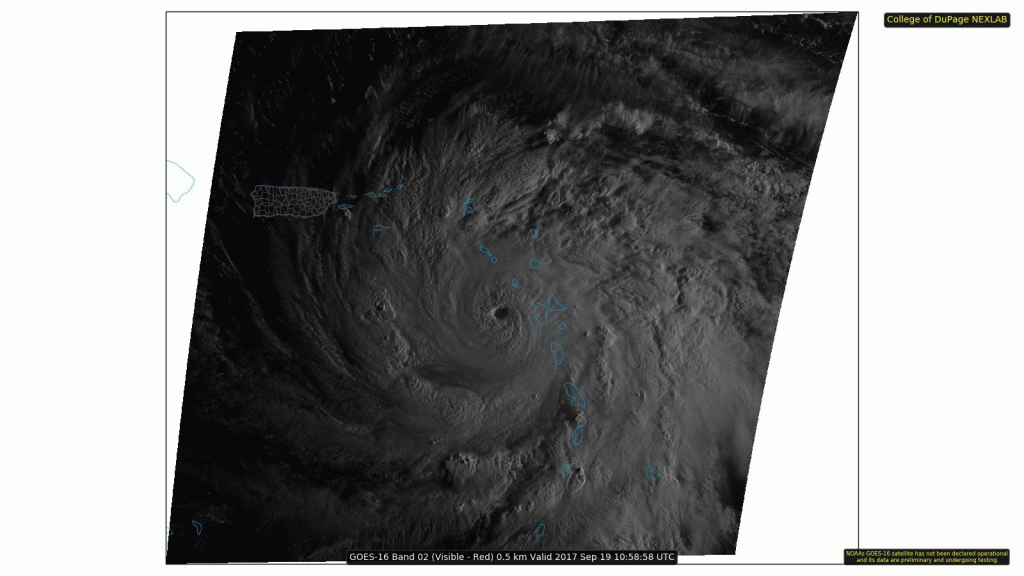 Forecast models are tightly clustered over the next 36 hours, and it appears that St Croix, Vieques, and Puerto Rico will be taking a direct hit from this major hurricane.   While it is possible that some slight weakening could occur by the time Maria reaches Puerto Rico, it will still likely be at least a Category 4 storm capable of catestrophic damage.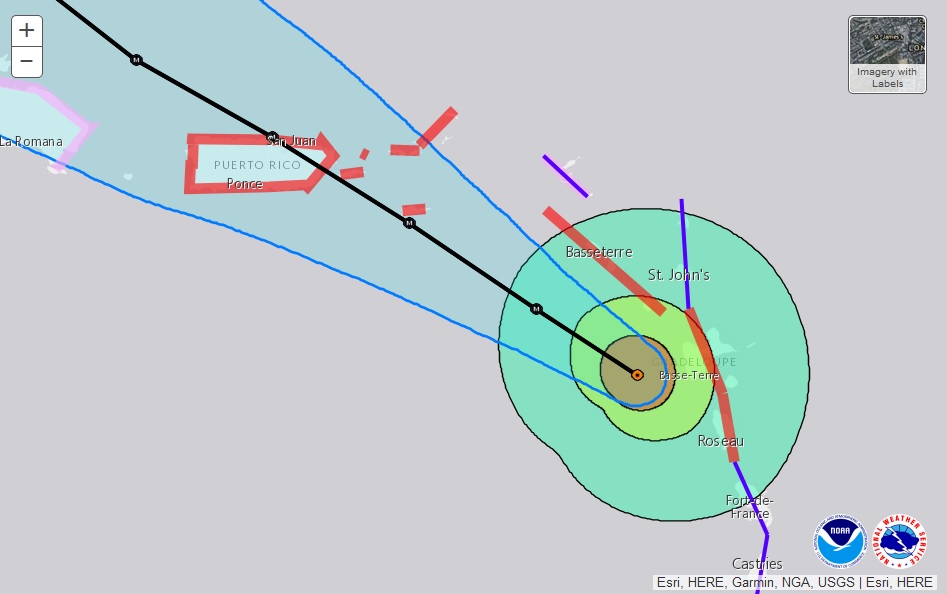 Hurricane Warnings:
Guadeloupe, Dominica, St. Kitts, Nevis, and Montserrat, U.S. Virgin Islands, British Virgin Islands, Puerto Rico, Culebra, and Vieques
Hurricane Watch:
Saba and St. Eustatius, St. Maarten, St. Martin and St. Barthelemy, Anguilla, Isla Saona to Puerto Plata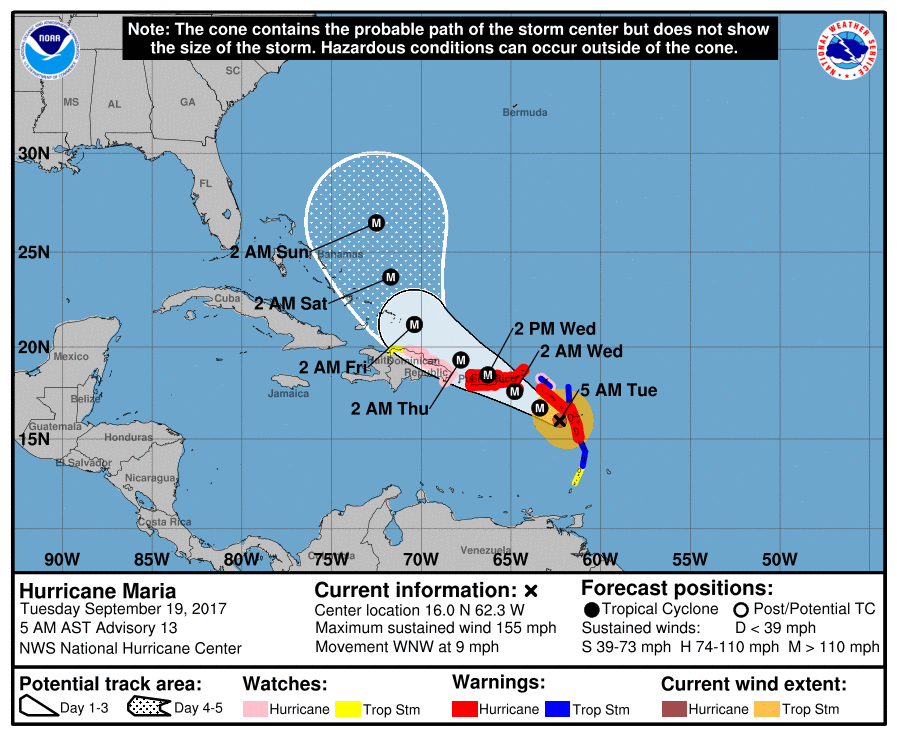 Monday, September 18, 2017 – 10 pm:
…Extreme damage being reported on island of Dominica…
…Maria remains at Category 5 strength with maximum sustained winds of 160 mph and a central minimum pressure of 924 mb…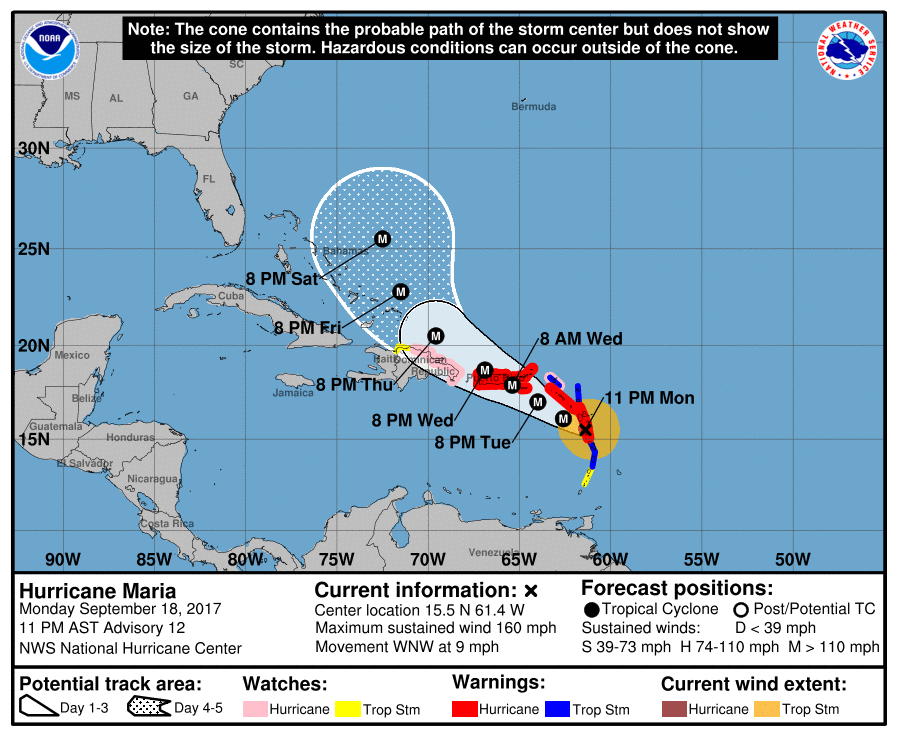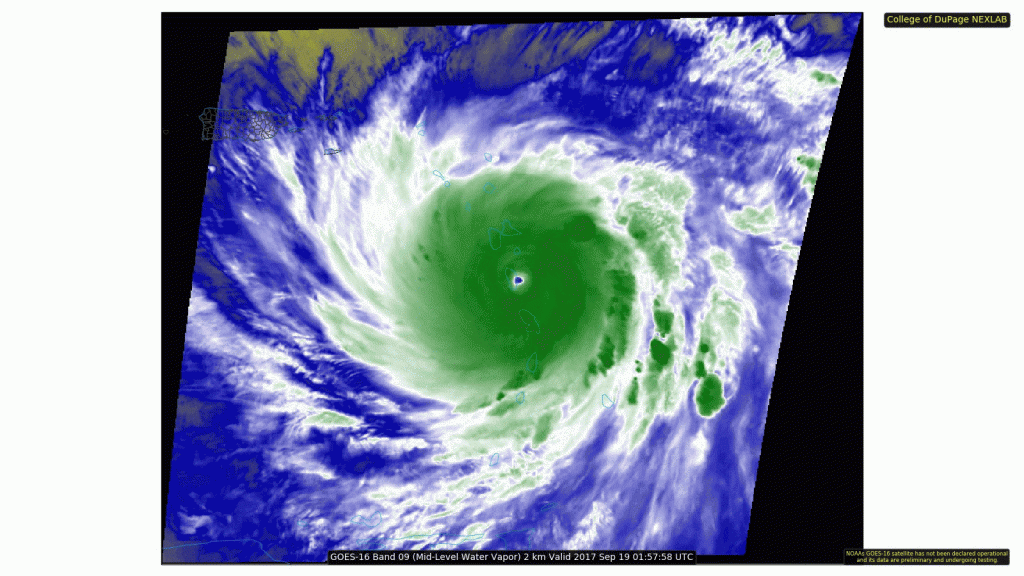 Monday, September 18, 2017 – 7 pm:
…Maria now catastrophic Category 5 hurricane with maximum sustained winds of 160 mph…
It is really hard to find words to describe how rapid intensification of this storm has been.  About 26 hours ago, it was just labled a hurricane with 75 mph winds.  This is very close to – if it has not become – the fastest intensifying hurricane of record.
The storm is very close to the island of Dominica and is likely to cause extreme devastation there tonight.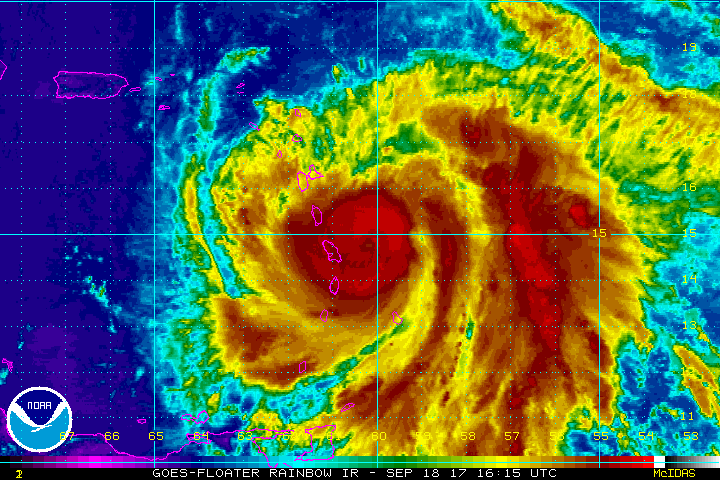 Monday, September 18, 2017 – 4 pm:
…Maria has gone from Tropical Storm to major Category 3 in less than 24 hours…
…Maximum sustained winds 125 mph…
…Beginning to pound the Leeward Islands…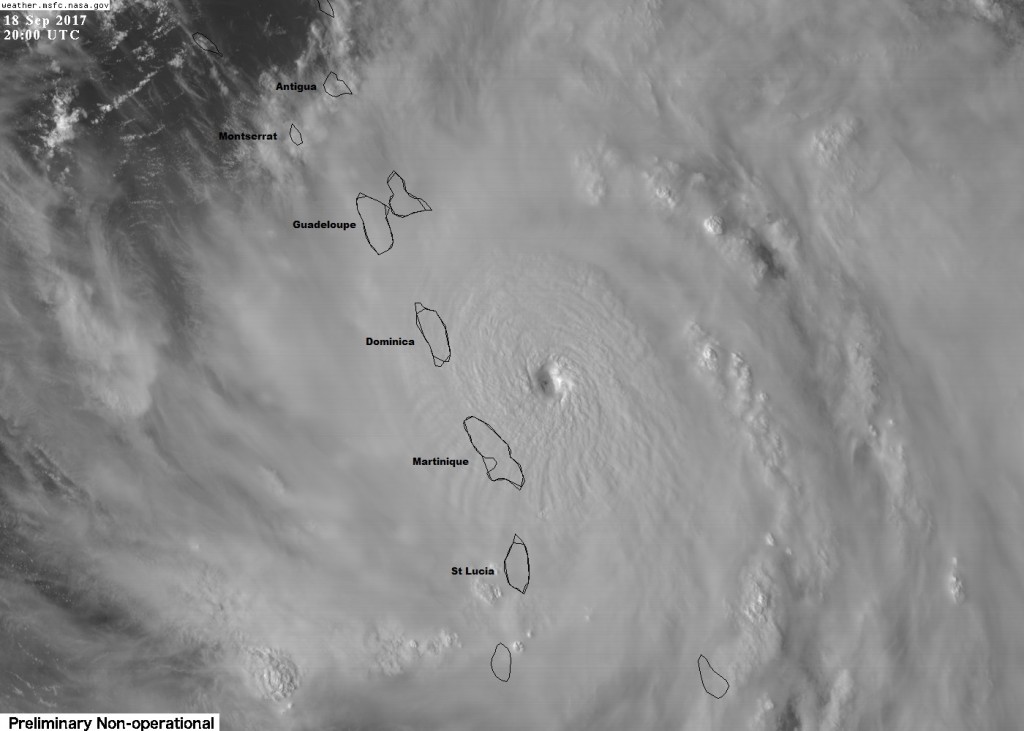 In nearly ideal conditions for strengthening, Maria has undergone a staggering amount of intensification over the last 24 hours.  It is possible that the storm will approach Category 5 status during the next 36 hours.
On the forecast track, the center of Maria will move across the Leeward Islands late today and tonight, over the extreme northeasternern Caribbean Sea Tuesday and Tuesday night, and approach Puerto Rico and the Virgin Islands on Wednesday.