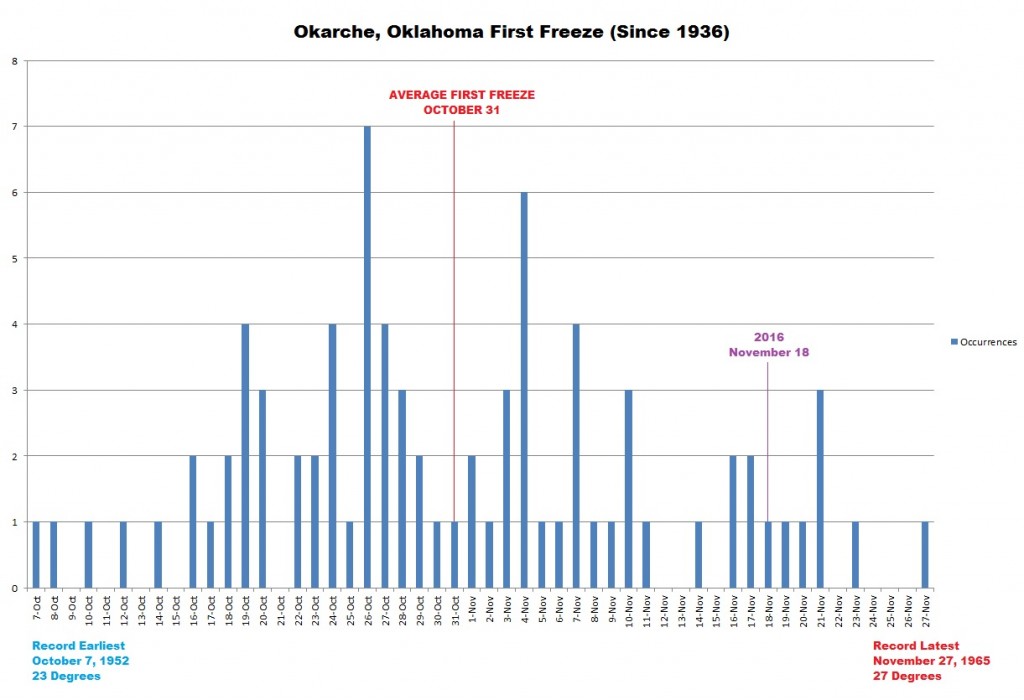 The high temperature in Okarche on Wednesday the 25th was 78 degrees.  So far this Thursday, we have reached 76 degrees.   Don't let it fool you, winter temperatures are on the way!
A strong cold front is moving across the Panhandle and far northwest Oklahoma early this afternoon.  Winds behind the front are gusting to between 40 and 50 mph and much cooler air will be filtering into the state tonight.  It appears that temperatures Friday morning will stay just above freezing in the Okarche area, but after a cold day Friday, the temperature is likely to fall into the 20′s by Saturday morning.  This should effectively put an end to the growing season.
The first freeze will be occurring on the 28th which is three days earlier than average.  Even though a freeze has only occurred on October 31st, one time since 1936, that remains the average date of first freeze in Okarche.
*** New data suggests that the temperature might be able to reach 32 degrees just before Midnight on Saturday, making the first freeze on the 27th ***
Temperatures will remain below seasonal average for the remainder of the month.