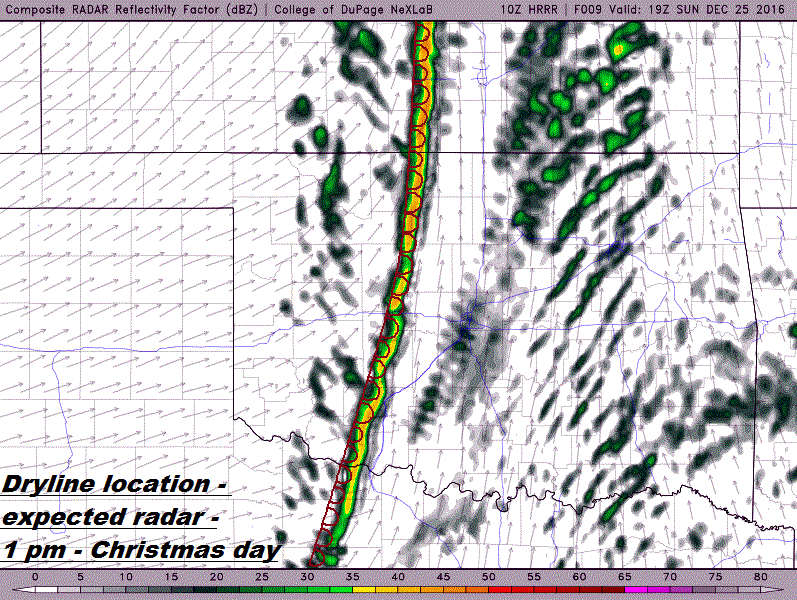 A very strong storm system will be moving northeastward from the Rockies toward the Northern Plains today.  In advance of this system, a very warm and moist air mass has moved northward across Oklahoma.  The Midnight temperature Christmas morning in Okarche was 56 degrees.  The temperature rose to 65 degrees by 6 am – and the dew point was also 65 degrees!  Strong south and southeast winds have been gusting to between 40 and 55 mph across the state.  These are conditions that one would expect to find in the middle of May!
The most significant impacts from this storm system are going to remain north of the state.  A deep cyclone will be tracking from western Nebraska to southeast North Dakota, bringing full scale blizzard conditions to the Dakotas.  As the warm and moist air moves northward, there will be a risk of severe thunderstorms over Kansas and Nebraska.
In Oklahoma, there will also be a low end risk of severe weather this afternoon.  A dryline will be moving rapidly eastward across  the state today.  A narrow line of thunderstorms is expected to form along this feature which will be approaching the Okarche area between 1 and 2 pm.  There will be sufficient moisture and low level shear to support a couple of instances of damaging winds with the storms.  In addition, any sustained area of rotation along the line would be capable of producing a brief tornado.  Even outside of the thunderstorm line, winds will be quite strong across the state today with gusts to 50 mph not uncommon.  As dry air moves into western Oklahoma behind the dryline, fire danger will increase to near extreme levels.
For the record…
Thunder has not been recorded in Okarche on Christmas day before.
The record high low temperature of 50 degrees would be set given the low so far this morning of 56 degrees.  However, temperatures by Midnight will have fallen into the 40′s which will keep that from occurring.
Also, the record high of 74 degrees is not likely to be reached as temperatures with extensive cloud cover will top out around 70 before precipitation arrives.
All in all, it's going to be a Christmas to remember weatherwise.